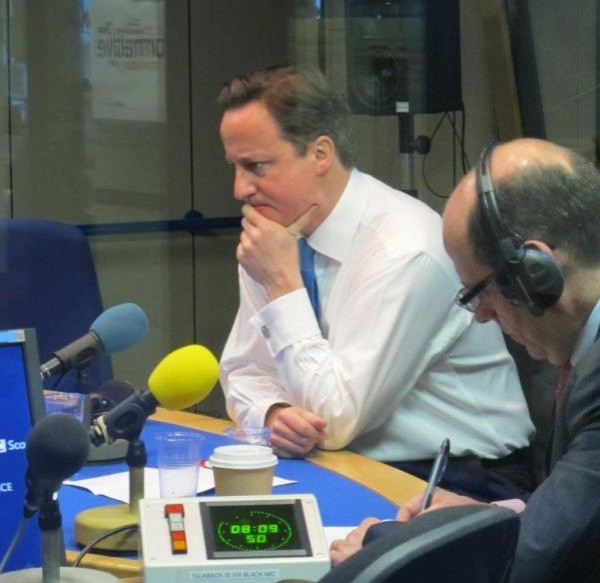 David Cameron spoke of the importance of being both a good father and a good prime minister during an interview with John Humphries on Radio 4's The Today Show.
During the 20-minute interview, which was also attended by BBC political correspondent Nick Robinson, the prime minister admitted the government had had a difficult couple of months and that while he has always been in favour of a Lords reform, he does not believe the case for a referendum is a strong one.
After being accused of taking care of the school run more than taking care of the country, Cameron admitted: "About once a week, once a fortnight, heaven forbid, maybe even once a month I take the kids to school.
"It's got to be possible to be a good father and a good prime minister."
Cameron also mentioned the importance of being a good husband and frequently goes on "date nights" with his wife Samantha.
"Do I try and live some sort of normal life at the same time? Yes, and I don't apologise for that," he told Humphries.
Defending what Cameron admitted to being "a bad couple of months", which has included budget controversy over the so-called pastie tax and criticism of the handling of a threatened strike by fuel tanker drivers, Cameron said: "Being prime minister is about taking decisions. You can't get them all right. But voters want to know that your average does not fall too low.
"This is a huge honour to do this job but it is hard work. I work very, very hard at it. I'm usually at my kitchen table at 5:45 in the morning going through the books and boxes."
As a parliamentary committee is expected to be called to examine plans for a mostly elected Lords, Cameron called the reform sensible. But he added that the issue was "not the most important thing this government is doing".
"I'm in favour of reform of the House of Lords. I have always thought that getting an elected element into the House of Lords would actually strengthen our parliament and strengthen the House of Lords and that's the right thing to do," he said.
"Personally I don't see the case for a referendum as a strong one," said Cameron.
Referring back to his "We're all in this together" quote, Cameron claimed that the richest 10 percent of the population were paying 10 times more tax than the poorest 10 percent.
The issue of tax avoidance came up during the interview, with Sir Phillip Green of BHS being accused of putting too much money offshore to avoid paying tax. Cameron said he did not want to discuss specific cases but added that "aggressive" tax avoidance was wrong.
He also defended the Home Office's handling of the Abu Qatada deportation farce. The government had been right to move as rapidly as possible to begin deportation procedures rather than wait another 24 hours, he said.
He insisted home secretary Theresa May had repeatedly checked on the date of the controversial deadline for an appeal to be launched with the European Court of Human Rights (ECHR).