Prince Andrew the Duke of York has visited the Tech City offices of enterprise social network Yammer in East London, where he was given a 3D-printed Welsh corgi as a gift.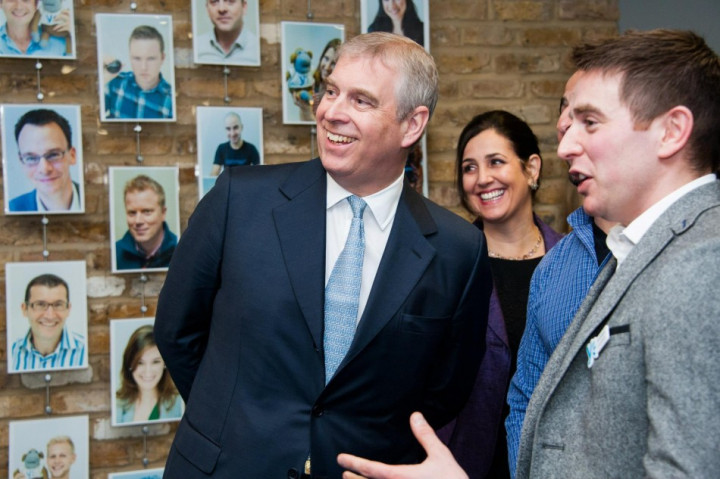 The Duke was due to be accompanied by the Queen, but she was forced to cancel all engagements this week due to ill health.
It was Prince Andrew's second visit to Yammer after he officially opened the company's new Tech City offices in September last year, three months after Microsoft acquired the firm for $1.2bn (£800m).
Nick Matthews, head of customer engagement at Yammer, told IBTimes UK: "I think the royal visit is fantastic. We've been in Tech City for a couple of years and I think it's great that a) we feel a real part of the community here, and b) we feel we picked the right place for our company to grow.
"It was a toss-up between New York and London with where we should locate, and London is a great place because of the pool of talent that you find here."
Meeting a number of Yammer and Microsoft staff, as well as representatives from Tech Hub, and Tech City CEO Joanna Shields, Prince Andrew attended the event as part of his on-going commitment to promote the UK technology industry and London's Tech City.
Shields said: "Tech City is home to some of the most innovative, ambitious companies in the UK and its been a pleasure to introduce the Duke of York to some of the talented people based here today. In a short space of time East London has become Europe's digital capital, with brave and passionate people building a vibrant business community that's creating jobs and fuelling economic output. It's important now for the UK to seize this momentum, build on it and make this the best place in the world to imagine, start and grow a business."
The Duke is something of a technology fan, having spoken to the BBC earlier in the day about the benefits of BYOD - bring your own device - organisations, and how the Palace is becoming one, with most family members owning an iPad and smartphone.
He also revealed that the Royal family uses Yammer as an internal social network. "I've used that for seminars and forums I've held here so that people can carry on the conversations," he told the broadcaster.
Speaking about the Queen, the Duke said she was no longer ill, but felt it was "more sensible not to risk coming out at the moment."
London over New York
Starting out in a single East London office two years ago, Yammer now has a large workspace in the heart of Tech City, a minute away from Old Street roundabout which gave the area its Silicon Roundabout name.
Speaking of why Yammer chose London over New York, Matthews told IBTimes UK: "We chose Tech City over New York because it's all about the people. Wherever you look you see all these great ideas and innovations that are happening all around you. All you have to do is come to an event like this and you'll meet someone you know, or someone who could be helpful to your business.
"There is a direct correlation between us moving to Tech City and the business growing. It's all been so easy for us to get set up here."
But Tech City has some drawbacks, previously criticised for its growing profile and publicity causing rent to increase, and forcing smaller start-ups away to other parts of London.
"We haven't really had to deal with too much of that because we've been here from the start, Matthews said. "But we're doing our bit to help. We have this space here which we allow some of the smaller startups to host events in and help them to find their feet. I think really though it's just basic economics and supply and demand. I think anywhere in London is going to be expensive."
Comprising around 1,300 companies, Tech City's growth is expected to continue, boosted by a £50m government investment announced by Prime Minister David Cameron in December last year.
The money will be spent on regenerating Old Street roundabout, which lies in the heart of Tech City and provides access to the London Underground. A new building will be built on the roundabout which promises to be "Europe's largest indoor civic space" and will house office space for startups to work in.