Prince William and Kate Middleton were greeted by thousands of excited locals as they arrived in the town of Blenheim, New Zealand. The royals received flowers and homemade cards as they chatted with children.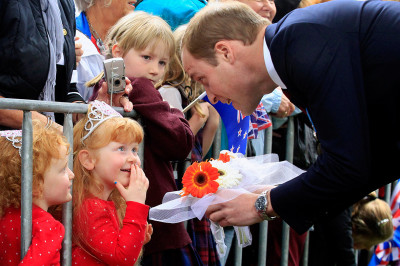 Kate and William laid a wreath at the town's war memorial, and met veterans. Kate chatted to Wilton Sterritt, who served in the Royal New Zealand Navy during WWII. He showed Kate a photo of himself with Prince Philip during the Commonwealth Games in 1974.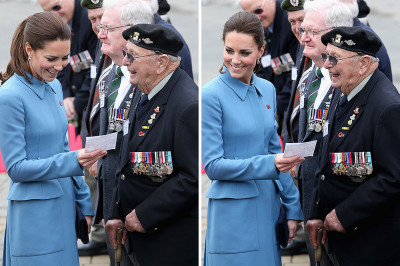 The royal couple then visited the Omaka Heritage Aviation Centre, where film director Peter Jackson gave them a tour of his collection of vintage aircraft. After turning down the chance to sit in a German Fokker triplane, Prince William climbed into a vintage Sopwith Pup biplane.
Wearing a pale blue Alexander McQueen coat, Kate posed as the Lord of the Rings director took her photo with his iPhone.