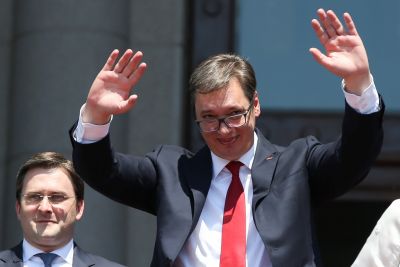 Aleksandar Vucic was sworn in as Serbia's president on Wednesday (31 May), pledging to work for peace and stability in the war-weary Balkans while strengthening the country's armed forces.
Vucic, a former ultranationalist turned self-declared pro-European Union reformer, formally stepped down on Wednesday from his prime minister's post after winning the presidential election by a landslide in April.
The opposition, which has alleged irregularities during the election campaign including muzzling the media, plans protests later Wednesday against Vucic's autocratic rule.
"We must create a region where differences are an advantage and not the basis for clashes," Vucic said in his inaugural speech in parliament.
"There have been enough burials in the Balkans, it is time to give birth," he added, referring to the wars in the southern European region in the 1990s in which he took an active role as a supporter of expanding Serbia's borders at the expense of its neighbors.
"While we have to talk to everyone, we also have to strengthen our defense capacity," Vucic said.
He said that Serbia won't join NATO nor become "member of any other military alliance."
During three years as prime minister, Vucic repeatedly said that EU membership is Serbia's "strategic goal." At the same time, Vucic has been strengthening ties with Serbia's traditional ally, Russia, which has agreed to supply fighter jets and battle tanks to its military — heightening tensions in the Balkans.
Vucic only briefly mentioned Serbia's integration into the EU, noting that "no one should doubt Serbia's EU path."
He said the country will cherish good ties with Russia and China, but that it should also improve ties with the United States
Addressing thousands of his cheering supporters in front of parliament, Vucic promised to "keep peace and stability, guard and protect the future of our children."
There were sporadic clashes between Vucic's supporters and his opponents in downtown Belgrade as police prevented demonstrators from reaching the parliament building.
The presidency is largely a ceremonial post, but as his speech on Wednesday indicated, Vucic intends to continue playing leading role in the Serbian politics.
He succeeded his former patron Tomislav Nikolic, a staunch pro-Russian, as Serbia's president.