Two of the world's largest warships, USS Carl Vinson and USS Ronald Reagan, are at the moment training in the Sea of Japan – in close proximity to the Korean peninsula waters – in what is considered extraordinary dual-carrier naval drills.
The nuclear-powered supercarriers are currently in the Sea of Japan, also known as the East Sea, as a sheer show of strength to North Korea amid Pyongyang's growing threats. Both the massive warships, hosting dozens of warplanes, are accompanied by several vessels and two submarines as well. The training period is expected to last a few days.
Vinson is set to be eventually replaced by Reagan but not before the two massive vessels conduct joint training exercises just hundreds of miles off the Korean peninsula. "How can we say it's not sending a message?" a US defence official told CNN.
Japan, a key ally of the US and an adversary of North Korea, is also at present negotiating with American officials to hold joint exercises with USS Ronald Reagan.
Though it is not entirely unprecedented for two aircraft carriers to be present in the same waters simultaneously, the move is widely seen as an aggressive posture of the US forces given the tensions existing in the region. The 1,092-foot Reagan carrying more than 4,500 crew members was sent to the region in mid-May while Vinson was deployed in April.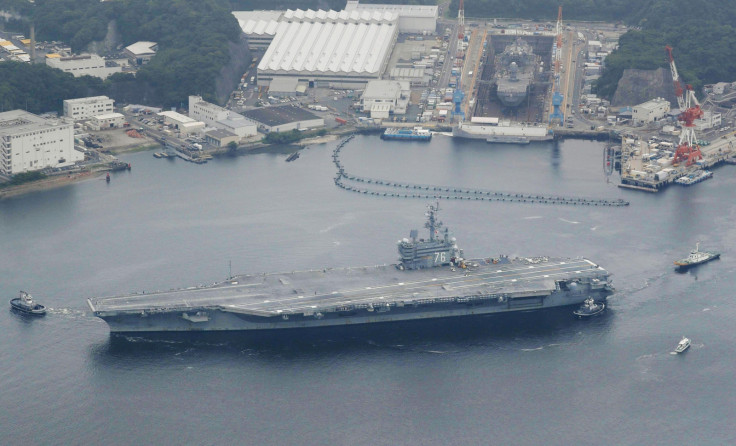 In addition, another naval strike group led by the aircraft carrier USS Nimitz is departing to the western Pacific – again closer to the Korean peninsula waters – on 1 June though defence officials insist all three warships will not be operating near North Korea simultaneously. The US Navy has not explicitly said Nimitz is intended for operations related to North Korea but said the aircraft carrier will be mobilised in Asia Pacific and the Middle East.