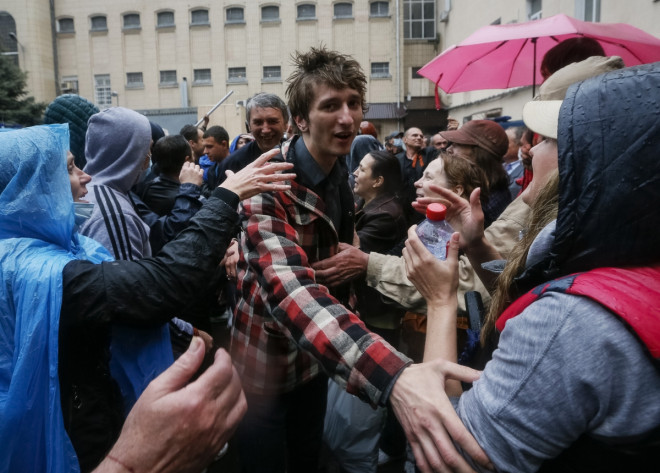 Pro-Russian protesters have stormed the police headquarters in Odessa and freed the detainees who were apprehended at the scene of the deadly violence which killed 40 people.
The police said 67 activists broke out after nearly 2,000 pro-Russian separatists attacked the building.
The protesters, armed with clubs, shouted "we will not forgive!" as they smashed the windows and doors of the building. The protesters initially marched on the police station peacefully but later some of the men wearing masks attacked the building with improvised weapons.
Police personnel who were in the vicinity offered no resistance as the protesters forced their way into the headquarters. The prosecutor's office said the police officers' refusal to confront the attackers was a "blatant disregard for their duties".
Emotion-filled family members of the detainees were seen cheering and hugging them as they were released.
The activists were detained after the deadly violence on Friday (2 May), which ended up in people being burnt alive in a trade union building. More than 40 people were killed and 200 injured on that day in one of the deadliest incidents since the unrest broke out in Ukraine.
Ukraine's interim Prime Minister Arseniy Yatsenyuk, who visited Odessa before the storming of the police headquarters, has said the violence was engineered by Russia.
"If the law enforcement system in Odessa had worked not exclusively on the 'Seventh Kilometre' and had protected people, then these terrorist organisations would have been foiled," he said, speaking at the Black Sea port. "Seventh Kilometre" refers to the corruption and black market in Odessa.
The police chief of Odessa has been dismissed for failing to prevent the violence.