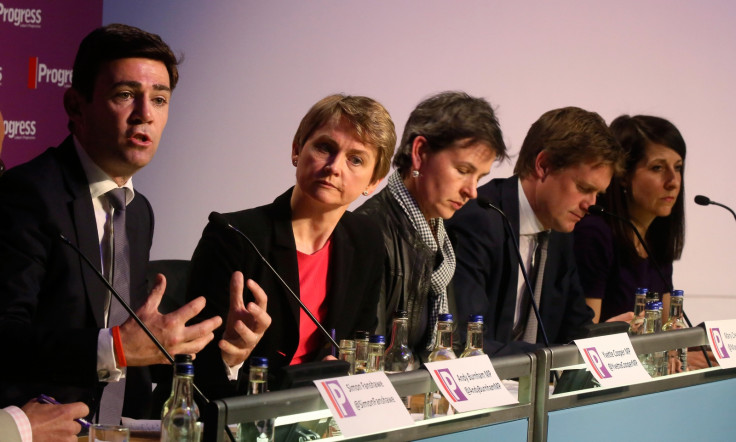 Labour's potential leaders have gone head-to-head over the party's record handling the econony during the Blair-Brown era in their first public debate.
Yvette Cooper, Liz Kendall, Andy Burnham, Mary Creagh and Tristam Hunt were speaking at an annual conference organised by the thinktank Progress.
Cooper, Kendall, Burnham and Creagh have said they intend to run for the leadership after Ed Miliband resigned after the Conservatives won a decisive general election victory on 7 May. Hunt is expected to announce his candidacy this week.
Admission of blame
The leadership candidates all recognised that Labour must re-establish its credibility as being trustworthy custodians of the country's finances, after the Conservatives spent the general election campaign blaming Labour for causing the worldwide economic crisis which struck in 2008.
During the debate, Burnham, the current frontrunner for leadership, admitted that the UK's deficit had grown too large when Labour was last in power, and that economic credibility, immigration and business were the party's fundamental weaknesses which need to be addressed.
Mary Creagh, the shadow secretary of state for international development, said she recognises that the party needs to reach out to people in "middle England", and that despite people agreeing with Labour on a number of policies, they "simply do not trust us to run the economy".
"People have forgotten the economic credibility that the last Labour government had," she said.
Burnham and Kendall, shadow minister for care and older people, both said Labour must admit to contributing to the UK's increased deficit. "There's absolutely nothing progressive about spending more on debt interest payments than on educating our children," said Kendall.
Burnham said the party "let the deficit get too large in middle years of last decade", while Kendall said they should have controlled spending before the 2008 crash.
Kendall went further, completely rejecting policies promoted by Ed Miliband during the election, saying that she supports a referendum on the UK's European Union membership – one of the core promises made by the Conservatives and Ukip, which Miliband strongly opposed – and rejecting increases taxes taxation "just to make a point".
Historian and shadow education secretary Tristram Hunt said: "To be listened to, I think we need to admit that we spent too much under the last Labour government."
However, Shadow Home Secretary Yvette Cooper was unapologetic over Labour's economic performance, saying: "We should never let anybody tell us that it was too many teachers, doctors or nurses that caused Lehman Brothers bank in New York to crash."
Candidates for second place
Shadow energy secretary Caroline Flint MP and Exeter MP Ben Bradshaw are both running for the position of deputy leader.
Flint, who has been a member of the Labour movement for 30 years, is considered a strong media performer – she appeared on Question Time more times than any other politician during Ed Miliband's leadership of her party.
Former Culture Secretary Ben Bradshaw meanwhile, has taken a candid approach in a bid to appeal to voters, saying his "big tent" approach is the only way the party can attract voters in the next election.
"Labour must and could win the next election, but only if it broadens its appeal by adopting sensible, centre-left politics which celebrate wealth creation and entrepreneurship as vital means of delivering social justice," he said.
"I know I face an uphill task getting enough nominations from fellow MPs to get on the ballot paper. That would be hard for anyone from a part of Britain with so few Labour colleagues.
"But it's exactly because I believe it is vital that we listen to and hear the voices of those members, candidates and defeated MPs from areas that are underrepresented in parliament and where we must win again that I have decided to have a go."
Shadow Business Secretary Chuka Umunna – the first Labour MP to step forward as a leadership candidate – withdrew from the contest yesterday, citing the unexpected level media scrutiny of his personal life and his family.