Protesters stormed a runway at Stansted Airport to block a charter flight from taking off.
The flight was said to contain eight asylum seekers who were due to be deported to Nigeria and Ghana, but were prevented from leaving after activists breached the security perimeter at the Essex airport late on Tuesday (28 March).
Eight protesters chained themselves up to a giant tripod on the non-commercial runway, claiming had the asylum seekers been deported, their lives would be placed in danger.
In a statement released by the three campaign groups – End Deportations, Lesbians and Gays Support the Migrants (LGSMigrants) and Plane Stupid – protesters highlighted the stories of two people said to be on the flight.
One woman was quoted as saying: "My ex-husband said he knows I am being deported. He is waiting for me. He is planning to kill me. If he kills me, who will I look after my children?"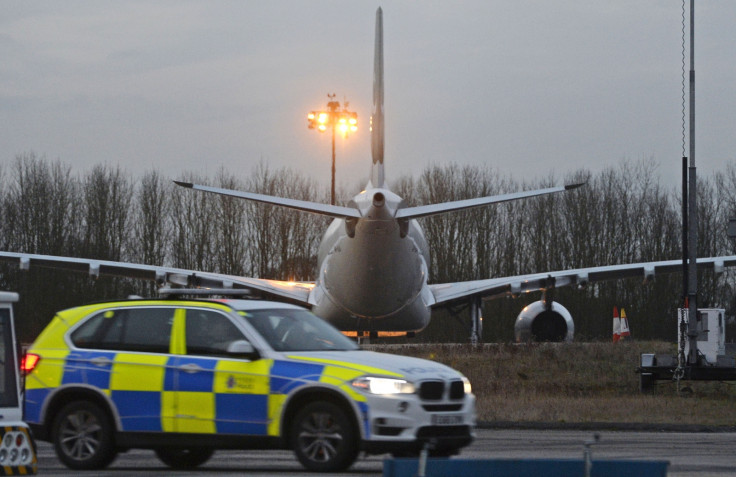 A man due to be deported was quoted as saying: "I have been in this country for almost 18 years. My family and my life is here in the UK. If they take me back to Ghana I will kill myself."
IBTimes UK could not independently verify the veracity of the accounts.
After protesters blocked the runway, flight-tracking information showed that a number of flights circled the airport or were diverted to Luton Airport.
On the ground, a Facebook Live video stream broadcast the protest and showed Essex Police trying to clear those taking part away.
Susan James, from Plane Stupid, said: "Mass deportations like the one we stopped tonight are immoral, unfair and illegal.
"I don't want to stay silent in the face of mass deportations that are deliberately rushed and secretive.
"In the wake of the Brexit vote, this government is more keen than ever to be seen to be 'tough' on immigration. But its mass deportations have devastating human consequences.
"Everything about these deportations points to the fact that they are inhuman, and must be stopped."
The UK has been using charter flights to deport people since 2001. According to the University of Oxford's Migration Observatory, 40,896 people were removed from the UK or departed voluntarily in 2015.
Of those, a Freedom of Information (FoI) request revealed that 1,877 were deported by charter flights.
Between the beginning of 2014 and June 2015, the Home Office spent over £14m ($17.36m) on charter planes.