Just when the banks thought they would be out of the spotlight for at least one day, after sources revealed that the Financial Conduct Authority is set to investigate the insurance sector, the financials were hit with the news that Britain's watchdogs are launching a probe into its IT systems too.
Bosses at the Royal Bank of Scotland (RBS) and Lloyds Banking Group are probably checking their blood pressure and soothing their sore, freshly face-palmed foreheads as they face an inevitably costly and laborious probe into their technology particulars.
The FCA and the Bank of England's Prudential Regulation Authority will launch the review to be concluded by early 2015.
"To access and manage our money we depend on the banks' IT systems to be reliable. But IT outages continue, interrupting key banking services," said Clive Adamson, FCA director of supervision.
"We want to make sure that the banks have resilient IT systems in place that are able to cope with consumer demand, so customers aren't left financially stranded or disadvantaged."
The FCA has a point.
Legacy Problems
RBS, Natwest and Ulster Bank customers were hit by an online banking and ATM blackout which left potentially millions unable to pay for goods and services or receive payments in the run-up to Christmas.
Since then, it has been fire-fighting on a regular basis.
Only a week after that incident, Ulster Bank customers were stung by another IT glitch and then in the New Year, RBS and Natwest credit card customers were hit by more IT problems - but this time the banks insisted that it was Tesco's fault.
Oh yeah- and RBS had to deal with a major a distributed denial of service (DDoS) attack which hit the Natwest website.
Lloyds joined into the club of mass IT failure and reported a major debit card and ATM outage as the result of a banking glitch.
While the length of the glitches were not too 'long,' customers contacted IBTimes UK in droves when the outages occurred and outlined how they were stranded without cash, unable to pay bills or stuck in petrol stations because they had fuel in the tank but no funds to complete the purchase.
So will the investigation help stop this from occurring again? One can hope, but it isn't guaranteed.
The two British banks that have had mass IT outages over the last few months – RBS and Lloyds – are only both part-state owned but they have a history of ropey IT systems.
RBS' boss Ross McEwan even admitted that decades of IT system investment failure for the customer banking outage.
"For decades RBS failed to invest properly in its systems. We need to put our customers' needs at the centre of all we do. It will take time but we are investing heavily in building IT systems our customers can rely on," said McEwan.
"I'm sorry for the inconvenience we caused our customers. We know we have to do better. I will be outlining plans in the new year for making RBS the bank that our customers and the UK need it to be.
"This will include an outline of where we intend to invest for the future."
Will the Banks Invest?
Aye, therein lies the rub.
Bank IT glitches isn't a new thing. In August 2012, RBS revealed that it had put aside £125m (€151m, $208m) to compensate customers affected by a two-week computer breakdown, which led to millions of customers being stranded without being able to pay their bills.
Customers had already experienced serious personal banking problems and the FCA had a root around RBS' problems before.
McEwan summed up, banks need wads of cash to overhaul their IT systems to prevent such outages from happening again.
The FCA can help find the source of the problem and punish banks for failing customers. It can even help set up a decent compensation scheme for those who were affected and help amend any credit rating issues clients may have endured from not being able to pay their bills on time.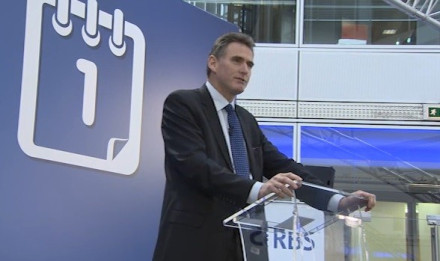 But, will these problems happen again? Probably, if the money isn't paid to fix the problem.
Although the investigation is into all British banks, RBS and Lloyds stick out like sore thumbs because they have had the most recent and widely publicised IT failures in the last six months and beyond.
They are also partly-taxpayer propped and are hoping to return to the private sector.
However, while Lloyds posted a £415m profit before tax for 2013, up from a £606m loss in 2012, this is still relatively meagre considering it's still axing jobs left, right, and centre.
Meanwhile, RBS lost £8.2bn in 2013 and has to cut operating expenses by over £5bn.
So where is this IT infrastructure fund going to come from?
In tandem with their paths to privatisation, both banks are still facing a number of costly mis-selling scandals and Lloyds, despite its profitable 2013, has been accused by the Financial Ombudsman Service (FoS) for exploiting a loophole to pay less cash to customers.
Somehow, I think, updating their IT systems won't be at the forefront of their spending habits over the next year.