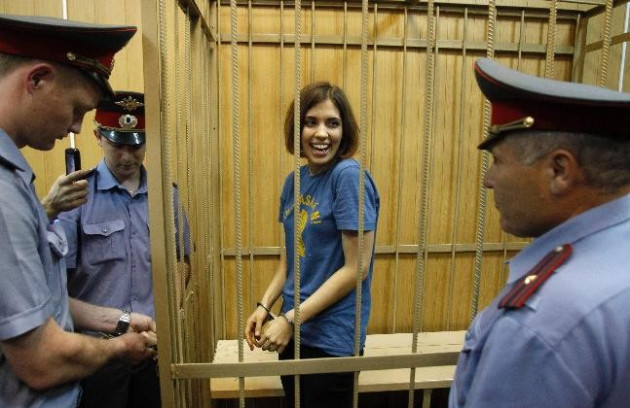 The jailed members of the Pussy Riot feminist punk band have said they have no regrets about the protest punk prayer against President Vladimir Putin they performed in Christ the Saviour's Cathedral in Moscow
Nadezhda Tolokonnikova and Maria Alekhina told the independent Novaya Gazeta newspaper that their "cheerful and bold act" was a political protest and was not aimed at offending religious sentiment in the widely Orthodox country.
Tolokonnikova said she does not expect clemency. Putin just does not exist for her, she said.
"He is just a blank spot for me."
But she admitted that she misses the freedom to read what she likes inside her Siberian prison colony.
Along with Yekaterina Samutsevich, Tolokonnikova and Alekhina were found guilty of hooliganism motivated by religious hatred in August and sentenced to two years in prison for their cathedral protest. Samutsevich was released on appeal.
But Tolokonnikova said that religion was not the target.
"It was an ironic, cheerful and bold act, a political outcry," she said.
She added that she had not been harassed in priosn unlike Alekhina, who is serving her sentence in a different colony. She has complained of systematic human rights violation by the prison administration.
She was forced to swap her crowded barracks for a solitary cell in November to escape threats from fellow inmates.
"They told me that I would be done with if I stayed in that unit," she said. Alekhina, a vegetarian, said she was cooking her own food from fresh products provided by supporters.
"I will survive. Nothing will happen to me," she said.