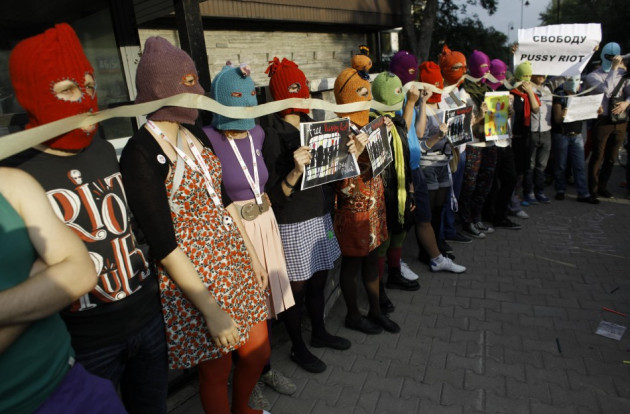 Rights groups and governments across the world have condemned the two-year jail term for members of the Russian punk band Pussy Riot.
Three members of the riot group have been sentenced for hooliganism over an anti-Vladimir Putin protest.
The US State Department has joined the widespread outrage over the verdict. The department spokesperson Victoria Nuland said in a statement that the decision was disproportionate to the alleged crime.
"The United States is concerned about both the verdict and the disproportionate sentences handed down by a Moscow court in the case against the members of the band Pussy Riot and the negative impact on freedom of expression in Russia," said Nuland. The spokesperson urged the authorities to review the case to uphold the freedom of expression in the country.
Delivering the verdict, Judge Marina Syrova said that Nadezhda Tolokonnikova, 23, Maria Alekhina, 24, and Yekaterina Samutsevich, 29, did not get more severe sentences due to mitigating circumstances such as lack of a criminal record, having children and positive character profiles.
Rights group Amnesty International also expressed its severe condemnation of the judgement. "A number of measures restricting the freedom of expression and association have been introduced in response to the wave of protest that accompanied the recent parliamentary and presidential elections. This trial is another example of the Kremlin's attempts to discourage and delegitimise dissent. It is likely to backfire," said the Director of Amnesty International' Europe and Central Asia Programme, John Dalhuisen.
The EU was equally critical. While German Chancellor Angela Merkel said the sentence was extremely harsh, the EU foreign policy chief Catherine Ashton raised doubts over Russia's fair and independent legal process.
The organisers of the protests say that the sentence was a direct result of Putin's interference and that the judgment was written by Putin himself.
However, the verdict has evoked a mixed response inside Russia. Some suggest that the protest was unnecessary, while others are strongly backing it. A few have also joined in the chorus against the government in power.