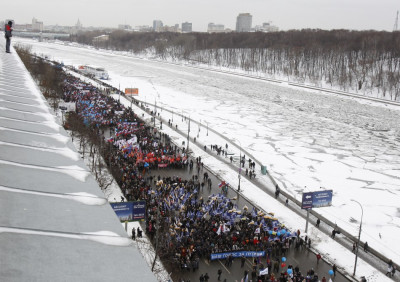 Ten of thousands of pro-Putin supporters marched through the streets of Moscow.
The crowd rallied along the Moscow River and then swelled a nearby stadium to hear him speak.
"We are the defenders of the fatherland!" Putin told a crowd of an estimated 130,000 supporters, according to state news agency Ria Novosti.
In a pompous address, the current prime minister asked the crowd if he would be victorious in the 4 March presidential elections. His supporters roared back "Yes".
He also asked: "Do you love Russia?" The crowd replied with another resounding "Yes".
"We won't allow anybody to interfere in our internal affairs and impose their will on us because we have our own will," Putin said. "We are a nation of victors. It's in our genes.
"We will win, but winning at the elections is not enough. We need to overcome a multitude of problems such as injustice, rudeness of officials, poverty and inequality," he said.
"I dream about a time when everyone in our country, big bosses and simple citizens, live in the right and honest way. It will make us stronger.
"Please, let nobody run abroad and betray their fatherland," he added.
Many of the banners held by participants at the rally bore the photograph of Putin's face used for the cover of the US weekly magazine Time, when it selected Putin as its Man of the Year in 2007.
Other flags and placards carried slogans like "We won't let them ruin the country!" "Who, if not Putin?" "Vote stability - Vote Putin".
The rally came after pro-Kremlin youth groups pledged that they will take to the streets on election day to intimidate opponents as Russians go to the polls.