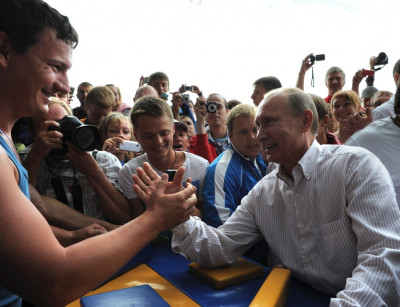 Pro-Putin youth groups will take to the streets on 4 March to intimidate opponents while presidential elections are held across Russia.
Nashi and Stal groups, which are faithful to Prime Minister Vladimir Putin, will put 20,000 activists on Moscow streets to "monitor the situation and prevent possible provocations" by opposition groups. Putin supporters added they will also be on the lookout for "foreign sponsors".
Putin is standing unopposed for the role of president.
Maria Kislitsyna, a Nashi organizer, said the movement would not sit by and twiddle its thumbs.
"We are ready to gather in Moscow tens of thousands of our supporters who will protect the choice Russians make during the democratic voting," she said.
Kislitsynan pledged that Nashi would respond to provocation. In December, Kremlin supporters marched against unsanctioned opposition rallies against alleged voting fiddles in parliamentary elections.
The movement has not confirmed whether the actions planned have been sanctioned by the city authorities.