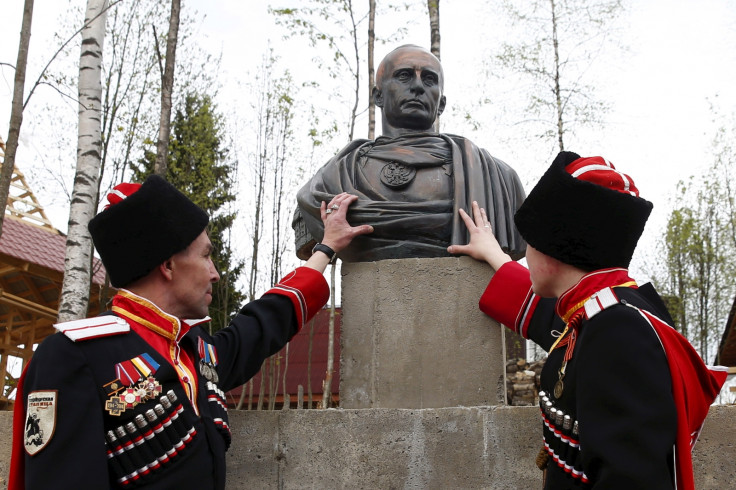 Vladimir Putin received his latest tribute on Sunday, when a bust of the Russian president as a Roman emperor was unveiled in a Cossack settlement near St Petersburg.
The bust depicts the Russian president clad in a toga and wearing a medal struck with the Russian crest, and stands on a concrete plinth in the settlement near the village of Agalatovo.
Cossack leader Andrey Polyakov explained why he commissioned the statue.
"We wanted to immortalise Vladimir Putin as a conqueror and statesman who returned Crimea to Russia," he told AFP.
He said that the current statue was temporary, and would be replaced by a larger version, cast in real bronze.
Though Putin has publicly declared his opposition to attempts to rename streets or roads in his honour, arguing that such tributes ought to be made to dead heads of state only, many of his more ardent admirers have disobeyed the order, and Putin's personality cult thrives.
Twelve Trials of Putin
To mark Putin's 62nd birthday last October, an exhibition of paintings was held in a Moscow gallery depicting Putin as the ancient Greek hero Hercules.
In the paintings a muscular Putin undertakes Hercules's 12 tasks, wrestling with the Nemean Lion, in this case a bearded suicide bomber symbolising terrorism, and capturing the three-headed dog Cerberus, signifying the Russian president battling US 'unipolar' global domination.
"We're forming a different image of Putin because the western media constantly criticises him, and our media occasionally attacks him as well," exhibition organiser Mikhail Antonov told the Guardian. "But here we see him completing these heroic deeds. We see that the interpretation of these events is not so categorical."
A town called Putin
In February, the town of Krasnokamsk engaged in an ambitious attempt to force the government to address urgent infrastructure problems.
Under the slogan "Give Putin Clean Water!" residents started an online petition calling for the town to be renamed in Putin's honour.
The name change, they argued, would "raise the image of the city. With such a great name -- the city is destined for prosperity".
The Kremlin though disagreed.
Presidential spokesman Dmitry Peskov said that the name change would raise "false expectations" and called for residents to find other ways to address local problems.
Get the T-shirt
In the wake of Russia's annexation of Crimea in 2014, there was a surge in popularity for the Russian president, which survived tough economic sanctions imposed by the West.
In the wave of nationalist euphoria, Putin merchandise flew off the shelves, including t-shirts emblazoned with pictures of the Russian president on horseback, in combat fatigues, and even in a tropical shirt with the slogan 'Welcome to Crimea'.
Bizarrely, among those queuing for a t-shit in Red Square was Hollywood actor Mickey Rourke, who declared he had met the president, and described him as a "very cool regular guy".
"[He] looked me right in the eye. I think he is a good guy. If I didn't, believe me I wouldn't wear the T-shirt," he told Sky News.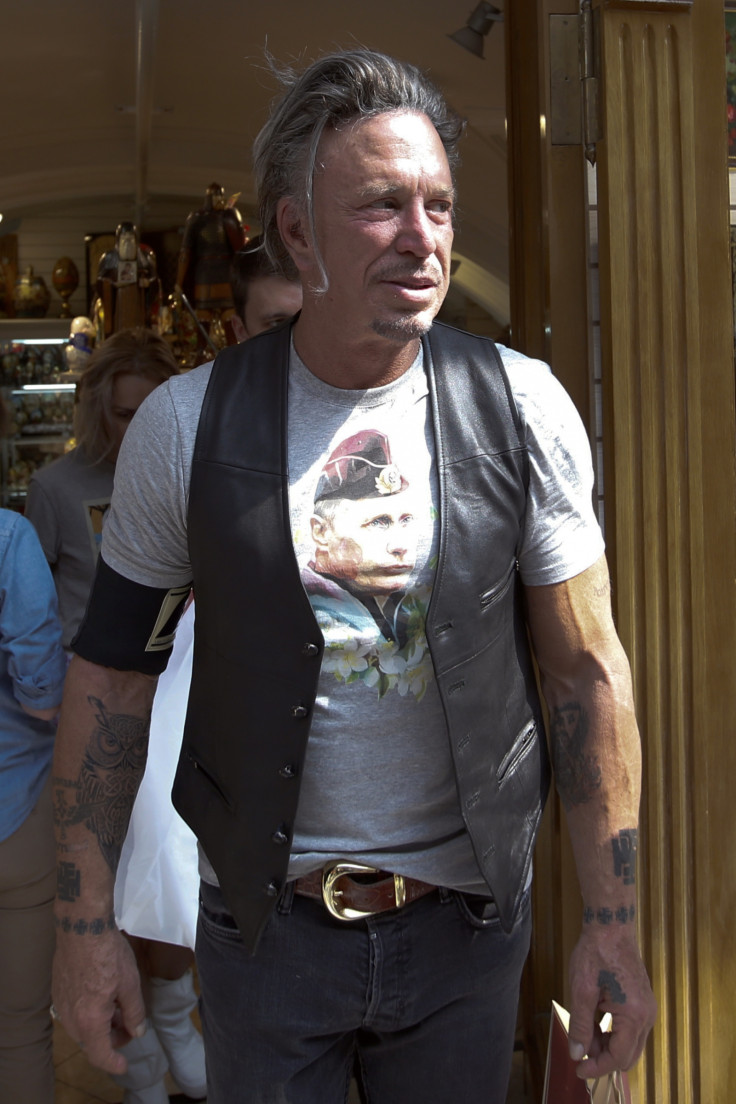 My Putin
It is not only on canvas or in sculpture that Putin has been celebrated, but also in song.
In January, Siberian singer Mashani received tens of thousands of YouTube hits for her song My Putin, in which she declares her love for the Russian president.
"My Putin, my darling Putin, take me away with you, I want to be with you," she sings, in a dress of the colours of the Russian flag, praising his achievement in 'reclaiming' Crimea.
In the early years of his presidency, Putin received a tribute from Russian dance group Singing Together, who extolled Putin's macho virtues.
"I want a man like Putin. One full of strength, who doesn't drink or offend and who won't run away," the singers croon to a pumping euro dance track.
Mount Putin
In 2011, the government of the central Asian republic of Kyrgyzstan announced that it was to name a 4,446m (14,586ft) mountain peak in honour of the Russian president.
Commentators said that the move was a way of marking gratitude for a recent oil deal, with several other Russian leaders also having Kyrgyz mountains named after them in the past.