Wage levels in emerging economies will significantly catch up with developed economies by 2030, according to research by PricewaterhouseCoopers.
The Global Wage Projections to 2030 report, which analysed data from the International Labour Organisation and the IMF World Economic Outlook database, argued that the projected increase reflected higher labour productivity growth in emerging economies and expected long-term appreciation of their currencies over the period to 2030.
Chinese employees, for instance, will see their average monthly wage packets surged to $2,057 (£1,278, €1,521) by 2030, a staggering increase from $523 in 2011, according to PWC.
Likewise, South African workers will enjoy an average monthly pay increase to $3,517, up from $1,448 in 2011 [Fig 1].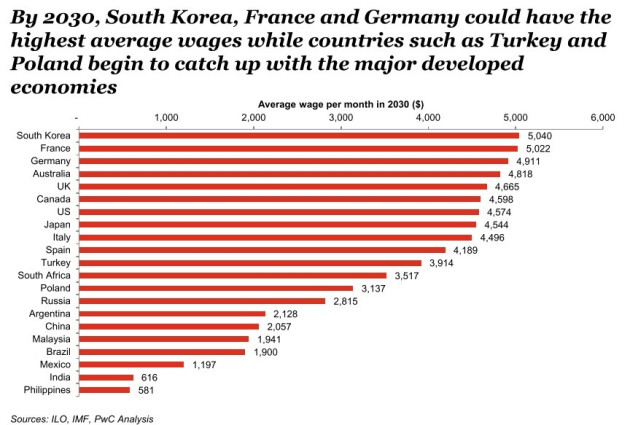 "China will become more attractive as a consumer market and less important as a low cost production location," PWC explained.
The organisation added: "This will also apply to other middle income emerging economies such as Poland, Turkey, Mexico and South Africa."
The professional services firm stressed that the hikes in pay mean UK firms must decide if they want to locate to the lowest cost areas such as Asia or if they would prefer to locate in areas such as Eastern Europe where wages are not as low but they are closer to the UK.
The Philippines could be one of the most attractive South East Asian locations, including Malaysia, Thailand, Indonesia and Vietnam, as a low cast production hub, according to the report.
But PWC also argued that onshoring, where economic pressures encourage businesses to relocate to their production home, may become an attractive option for UK companies as it has for some US organisations recently.
This is because, beyond wages, firms should also consider the ease of conducting business and wider measures of a country's competitiveness.
The UK, with a rating of seven (one being the most business-friendly), ranks highly in this regard [Fig 2].