Barack Obama and his wife, Michelle, have flown in to pay a special visit to the Queen and Prince Philip at Windsor Castle. The US president and First Lady landed in the UK on Thursday (21 April) night in Air Force One and wanted to personally wish the monarch a happy 90th birthday.
They arrived in the presidential helicopter and landed on the castle's lawns before being driven by 94-year-old Prince Philip in a Range Rover. They will lunch with the Queen and the Duke of Edinburgh before Obama makes what is expected to be a thinly veiled warning against a Brexit at the EU referendum.
The Obamas will then have dinner with Prince William and Prince Harry. The American couple are visiting the UK after a making a trip to Saudi Arabia.The Queen marked her birthday on Wednesday with a walk and drive in an open-top car through Windsor.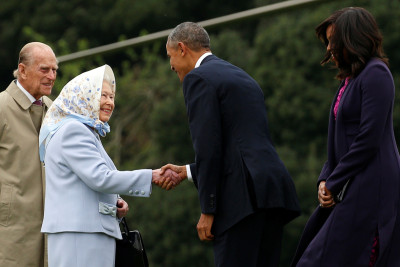 Obama praised the "inspirational" Queen in a message broadcast on her birthday. "For nine decades Her Majesty has been a source of strength and inspiration, not only for the people of Britain, but for millions of people around the world," he said.
"And when The Queen hosted Michelle and me at Buckingham Palace we saw the same grace and good humour, that generous human touch, that the people of the United Kingdom have loved for generations. My girls were especially excited to receive a guided tour of the Palace when they visited on Sasha's own birthday."