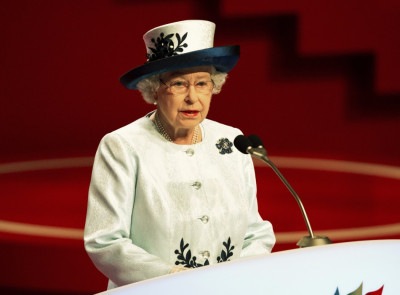 Queen Elizabeth II opened the 21st Commonwealth Heads of Government Meeting in Perth, Australia, Friday, amid demands to take a tough stand against violation of human rights.
In addition to focus on human rights, the 54-nation organisation will also tackle challenges posed by the global financial crisis, food security, climate change and trade.
The outgoing Commonwealth chairwoman, Prime Minister of Trinidad and Tobago Kamla Persad-Bissessar, handed her position over to Australian Prime Minister Julia Gillard, who was delighted by the monarch's presence.
In her address, the Queen, who heads the Commonwealth, asked the leaders gathered to keep the grouping "fresh and fit for tomorrow", before insisting that the "results of the meeting would have a global impact" and that they would be "positive and enduring".
"I wish heads of government well in agreeing further reforms that respond boldly to the aspirations of today and that keep the Commonwealth fresh and fit for tomorrow," she said.
"The results of this meeting may be global in impact or simply touch a single individual even imperceptibly. But in every respect I trust the results will be positive and enduring," she said.
A large crowd had formed in the streets around the summit's venue to greet the monarch, who was dressed in a powder blue silk jacquard dress by Angela Kelly.
People were seen waving flags and cheering, and a public holiday was declared in view of the summit.
But thousands of police had also been deployed on the streets around the Perth Convention and Exhibition Centre to ensure tight security.
In her opening speech, Gillard, said the two-day event needed "to ensure that those member nations that fall short (of the group's values) understand that their peers want to see change."
Her comments were directed at Sri Lanka, a country is still under international pressure to allow an independent inquiry into accusations of war crimes during its 25-year civil war.
Sources have also said participants may also discuss proposals to change the laws of succession to the British throne, to give females heirs the same status as males.
The leaders are also expected to discuss a 200-page report on reforms to the Commonwealth, which warns the organisation needs more world stage presence if it wants to avoid becoming irrelevant.
Other issues also expected to be on the summit's agenda are the laws that criminalise homosexual sex and the continuation of forced marriages of young girls in Commonwealth countries.