R3 extends collaboration with Smart Contract Templates Summit
IBTimes UK speaks to Richard Brown, CTO of R3, and Dr Lee Braine of the Investment Bank CTO Office at Barclays.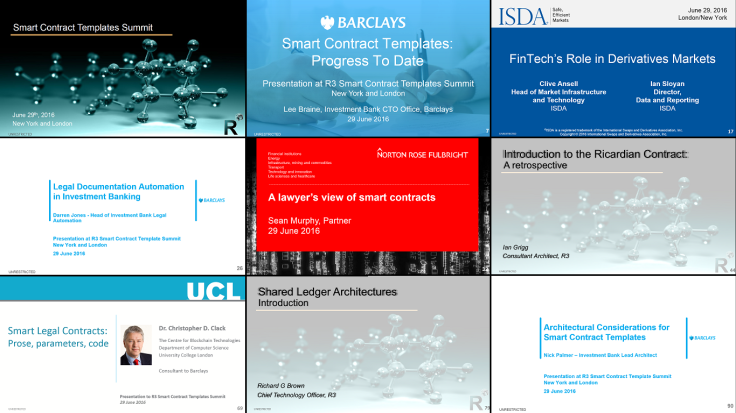 Financial innovation firm R3 has released details of a recent Smart Contract Templates Summit, expanding the breadth and depth of work done with Barclays in this area earlier this year.
The summit in London and New York in late June explored developing master templates for smart contracts, the self-executing contractual agreements used to trade, record and manage assets on distributed and shared ledger platforms, and how they could be implemented within existing legal and regulatory frameworks.
As well as R3's consortium members, the summit was attended by standards bodies, law firms, academic institutions, exchanges and market infrastructure providers.
There were 60 representatives from 20 institutions – and presentations from Barclays, the International Swaps and Derivatives Association (ISDA), Norton Rose Fulbright, University College London (UCL) and R3.
Earlier this year, R3 collaborated with Barclays to demonstrate how Smart Contract Templates and R3's Corda platform could work together to provide a workable and understandable bridge between the worlds of law and technology.
Richard Brown, chief technology officer at R3, told IBTimes UK: "Coming out of the work we did jointly with the Barclays Accelerator and the other institutions at that time, we were really keen to arrange this summit and make sure it had a broad coverage.
"And not just from us as a technology firm and the banks, but also from the other parties who have an interest in the pieces of the jigsaw that need to be put together so smart contracts can be deployed and integrated with the legal realm."
A key question is which representation of the contract is authoritative: the legal prose (natural language) or the automation of it (the code).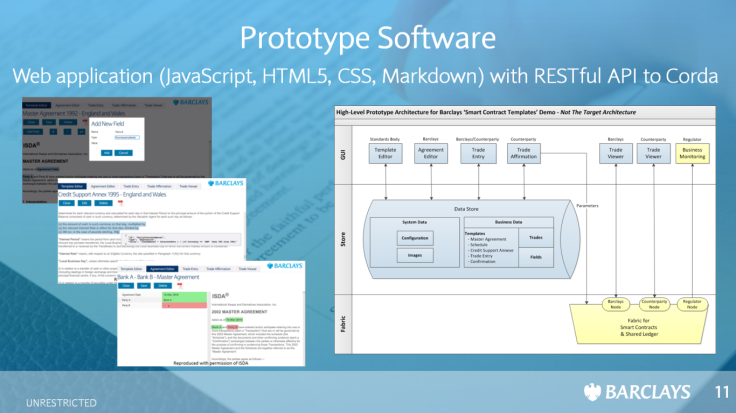 Dr Lee Braine, Investment Bank CTO Office at Barclays told IBTimes UK: "It's useful to think of a smart contract as an agreement whose execution is both automatable and enforceable. Automatable via execution on a computer, although some parts may require human input and control. And enforceable via either the legal enforcement of rights and obligations or through tamper-proof execution on a permissionless blockchain.
"Our preference is for legal enforceability, so we look to leverage and build upon existing structures in place for legal agreements. For certain financial products, these may range from high-level master agreements with schedules and annexes, right the way through to confirmations."
Clive Ansell, head of market infrastructure and technology at ISDA, said: "ISDA is committed to supporting innovations in technology, and smart contracts represent one area where considerable opportunity exists. ISDA's existing suite of derivatives documentation, developed over many years, provides a basis to explore this further."
Braine said that one of the motivations for creating smart contracts, together with shared ledgers underneath them, is the opportunity to reduce the number and duration of disputes. Some of the potential improvements could result from simply making the relevant information, such as agreements governing specific trades, more easily accessible.
Brown agreed, adding: "If you look at the experience with The DAO recently, one of the key takeaways from that incident was that, in a system that perhaps had an express design goal of having the code be dominant, there is a need to have a broader contract that explains what happens in the event that things do go wrong."
The presentation slides from the summit show how smart contract thinking around legal prose and code has progressed to date and may evolve in future. Ian Grigg, consultant architect at R3, provided a retrospective on his invention of the Ricardian Contract triple of legal prose, parameters and computer code.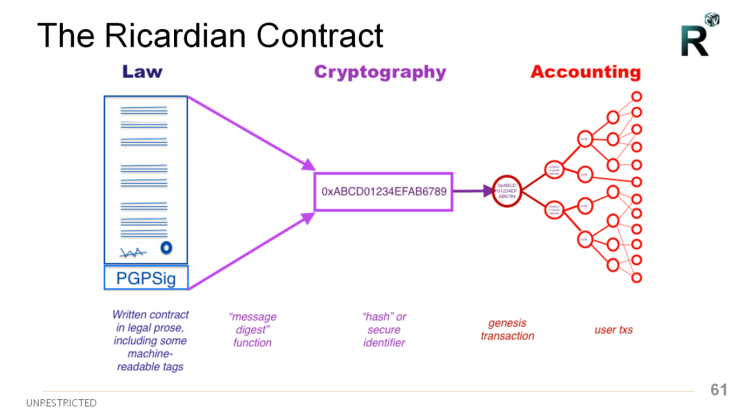 Dr Chris Clack of University College London described research which in the long term may result in new languages that could be automatically transformed into both legal prose and executable code – or even new executable languages that are admissible in court.
Brown said: "It's also a business question, and one of the things I took from Dr Clack's talk was that he was careful to lay out which concepts were potentially feasible for deployment in the short to medium term, and which ones were aspirations for the longer term.
"We have to make sure that what we propose to be deployed is deliverable within the existing context, given that early deployments will be small scale and they will be for narrow use cases. Therefore, allowing these to be fitted into the existing legal regimes with minimal changes, rather than requiring a wholesale change to everything, is clearly desirable."
Sean Murphy, partner at Norton Rose Fulbright, said: "Smart contracts have the potential to transform business and delivery significant cost savings by automating and streamlining contract processes. However, careful legal and regulatory analysis will be required as part of the work assessment involved in using this technology."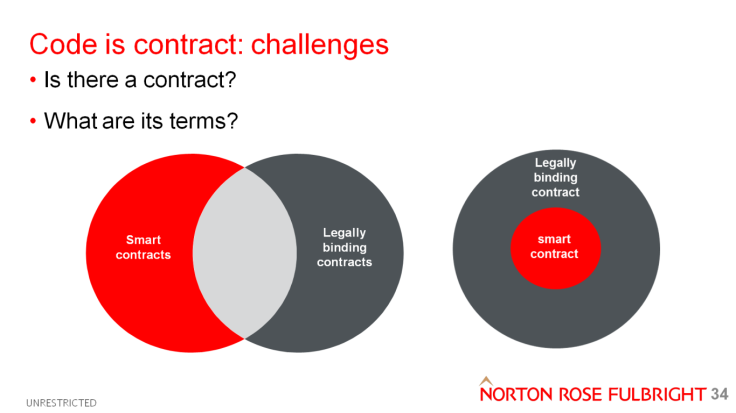 Another interesting point raised at the summit came from Darren Jones, head of investment banking legal automation at Barclays, whose presentation touched on the future of legal services including the potential for "AI lawyers" in litigation prediction and intelligent search for e-discovery and due diligence.
Braine said Smart Contract Templates could also potentially benefit from the application of machine intelligence. "You can imagine some processes that currently require human judgement being supported by automation. For example, a service based on historical case analysis suggesting to lawyers the most suitable agreement templates for particular scenarios based on criteria such as credit rating etc."
Brown added: "Maybe there is a standards point to be made here as well, which is a recurring theme in technology more generally. When common standards arise from protocols, data formats, code, etc, they can facilitate innovation higher up the stack. A standardised stable infrastructure can be leveraged by other parties as a base to deploy innovative solutions."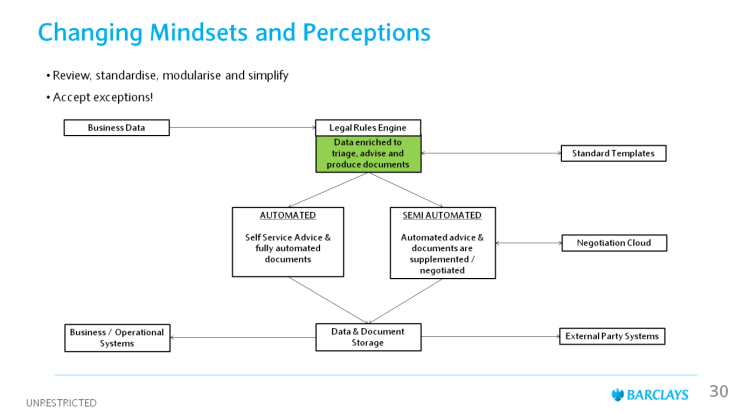 Turning to the Corda design itself, and with regard to privacy, Brown said: "We very much believe in the philosophy of defence in depth when it comes to anything to do with security, or associated non-functional requirements.
"There is no silver bullet and there is no one solution. I think it's uncontroversial to say that the best way to avoid data reaching people who shouldn't have it is by not giving it to them - and one could argue not giving it to them even in encrypted form, because one can always worry about whether the encryption may be subsequently compromised."
The R3 Smart Contract Templates Summit's presentations are publicly available online.
© Copyright IBTimes 2023. All rights reserved.