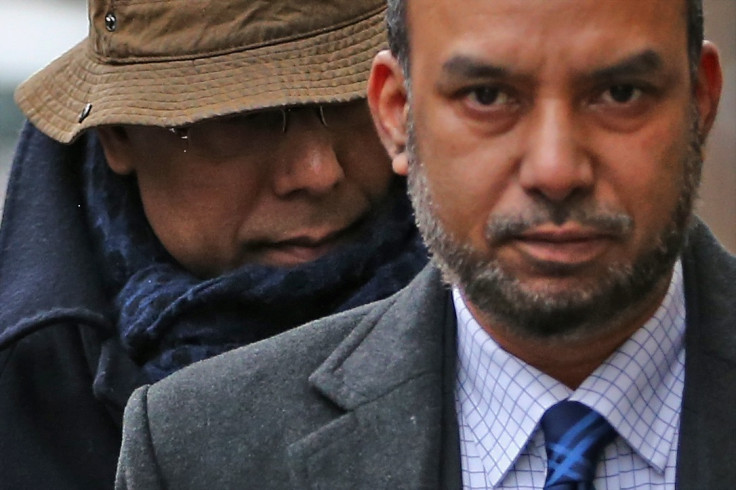 Rabina Khan said she has not received any funding from the disgraced ex-Tower Hamlets mayor Lutfur Rahman for her election campaign to replace him, despite his prominence in her bid for power in the London borough.
Khan is a councillor in Tower Hamlets. She was also a member of Rahman's Tower Hamlets First party until it was disbanded by an election court when Rahman was found guilty in April 2015 of corrupt and illegal electoral practices, including bribery with public money.
Critics of Khan claim she is a stooge candidate for Rahman, who is banned from standing for office for five years and faces a Metropolitan Police investigation over the high court's findings. Despite the court ruling, Rahman features on Khan's election leaflets endorsing her candidacy, canvasses for her and speaks alongside her at rallies.
"My campaign is being funded privately by family and personal friends, not by Lutfur Rahman or any political figures or large bodies," Khan, who is standing as an independent, told IBTimes UK.
But she added: "I am happy to be associated with someone who helped me deliver record numbers of affordable homes, stand up to the bedroom tax and provide a £2.2m Preventing Homelessness Fund. The forgotten story of Lutfur Rahman is that his administration supported some of the most vulnerable people in our borough."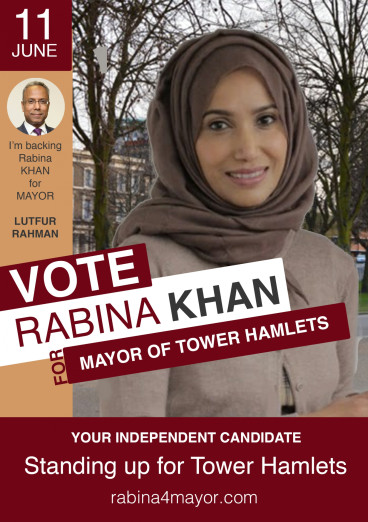 Rahman's re-election in 2014 as mayor of Tower Hamlets was challenged at the high court with an election petition brought by four voters. Richard Mawrey QC, the election court judge, annulled the election after agreeing with the petitioners that it had been won corruptly.
"The evidence laid before this court [...] has disclosed an alarming state of affairs in Tower Hamlets," Mawrey wrote in his judgement, in which he accused Rahman of lying in his evidence to the court.
"This is not the consequence of the racial and religious mix of the population, nor is it linked to any ascertainable pattern of social or other deprivation. It is the result of the ruthless ambition of one man.
"Mr Rahman has made a successful career by ignoring or flouting the law (as this petition demonstrates) and has relied on silencing his critics by accusations of racism and Islamophobia. But his critics have not been silenced and neither has this court."
Mawrey also said that all 18 Tower Hamlets First councillors, which includes Khan, had benefited in their 2014 elections from the corrupt and illegal electoral practices engaged by Rahman. But as the petition did not name them specifically, he was powerless but to let them continue in office.
"The Electoral Commission have confirmed that they will not remove sitting councillors, and I utterly reject the notion that I was corruptly elected," Khan told IBTimes UK.
"I was elected by only three votes when I first stood in 2010, and increased my majority as a result of hard work in my ward."
The current election is under investigation by the police amid sixteen allegations of irregularity, according to the Guardian.
"I was baffled to hear these allegations were circulating, and I am confident the police will throw them out," Khan said.
"I hope that voters will come out in person on [11 June] to make an informed choice. I will not let dirty tricks detract from this campaign, which is about a positive vision for the future of our borough."
Rahman rejects the high court ruling against him and plans to appeal against it. The new mayoral election in Tower Hamlets takes place on 11 June. Ten candidates are standing:
Elaine Bagshaw, Liberal Democrats
John Biggs, Labour Party
Andy Erlam, Red Flag - Anti Corruption
John Foster, Green Party
Peter Golds, Conservative Party
Vanessa Helen Hudson, Animal Welfare Party
Hafiz Abdul Kadir, Independent
Rabina Khan, Independent
Nicholas McQueen, Ukip
Md. Motiur Rahman Nanu, Independent