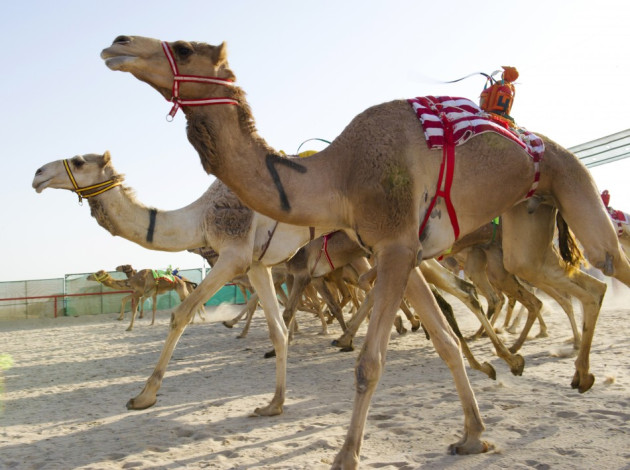 Three men have been jailed in Dubai for rigging up a stun gun to the robot jocket on a racing camel to make it run faster. The men, from the UAE, Oman and Bangladesh, were each jailed for three months for animal cruelty.
A fourth Emirati defendant was acquitted because he was out of the country when the incident took place.
Before the race, the defendants fitted a remote-controlled stun gun to the electronic jockey on the camel's back. The plan was to win the race by spooking the camel. But the runner came second and the plan was uncovered when racing officials inspected the jockeys.
The Bangladeshi defendant, 35, told the court he was responsible for preparing camels for the race and did not know the jockey had been fitted with a stun gun.
"My job is to prepare the camels before the race and fix the e-jockey on them," he said. "On race day, I prepared four camels for the race and accidentally put the machine on the camel as I did not know it contained the stun gun.
"I had been outside the country for two days before the race," he added. "It was an accident. I didn't intend to put it on the camel."
The 56-year-old Omani defendant, who had helped rig up the device, said: "Those electric shocks can't harm the camel. It is just to scare them and make them run faster."
Camel races are very popular in the United Arab Emirates, with supporters at the highest levels of society. Sheikh Zayed owned a personal stable of 14,000 camels, with 9,000 workers to tend to them.
Over the past 20 years, more racecourses have been built to cater for growing interest in the sport.
The sheiks of the UAE have invested large sums of money in the development of camel racing. There are about 14,000 active racing camels in the country.
Workers often come from neighbouring countries, such as Pakistan and Oman, while the camels are frequently trained in Qatar, which has an extended racing season.
Electronic or robotic jockeys have come to replace boy jockeys in the UAE following claims of child abuse.