Radiohead have announced their first tour in four years. The British rockers, whose last album was 2011's The King of Limbs, are set to make their return to live performance later this summer with 22 dates in 11 countries.
"These are all the headline shows that the band will play in 2016," Thom Yorke and Co told fans in a statement. "To minimise secondary ticketing and to give more fans a chance to buy a ticket at its intended price, restrictions will apply, including a limit of 2 tickets per order on all shows."
Radiohead will kick off the European leg of their tour in Amsterdam, playing two gigs at Heineken Music Hall before moving to Le Zénith in Paris. Their London dates consist of three appearances at the Roundhouse on 26, 27 and 28 May. The venue is enjoying a renaissance with gigs, dance events and award ceremonies but usually hosts indie acts, not groups with as big a following as Radiohead. Their headline shows include two nights at Madison Square Garden in New York.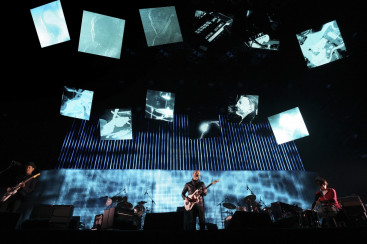 Tickets for all the shows go on sale on Friday 18 March at 9am.
Speculation is rife that the Lotus Flower hitmakers have a new album ready for imminent release ever since it emerged in January that the group had registered a new company, Dawn Chorus LLP.
In 2015, the band surprised fans by releasing their unused soundtrack submission for the James Bond movie Spectre. Although Sam Smith's soundtrack The Writing's on the Wall was eventually used, Radiohead said that the single had "became something of our own, which we love very much."
The updated Radiohead tour dates are as follows:
20 May-Amsterdam, Heineken Music Hall
21 May -Amsterdam, Heineken Music Hall
23 May Paris, Le Zénith
24 May- Paris, Le Zénith
26 May -London, Roundhouse
27 May -London, Roundhouse
28 May- London, Roundhouse
26 July- New York City, Madison Square Garden
27 July- New York City, Madison Square Garden
4 August- Los Angeles, Shrine Auditorium
8 August -Los Angeles, Shrine Auditorium
3 October-Mexico City, Palacio de los Deportes
4 October- Mexico City, Palacio de los Deportes