Rafael Nadal overtakes Roger Federer and says 'don't need to be No 4' to win French Open
Nadal has won three titles back-to-back to rise to world number four in the ATP rankings.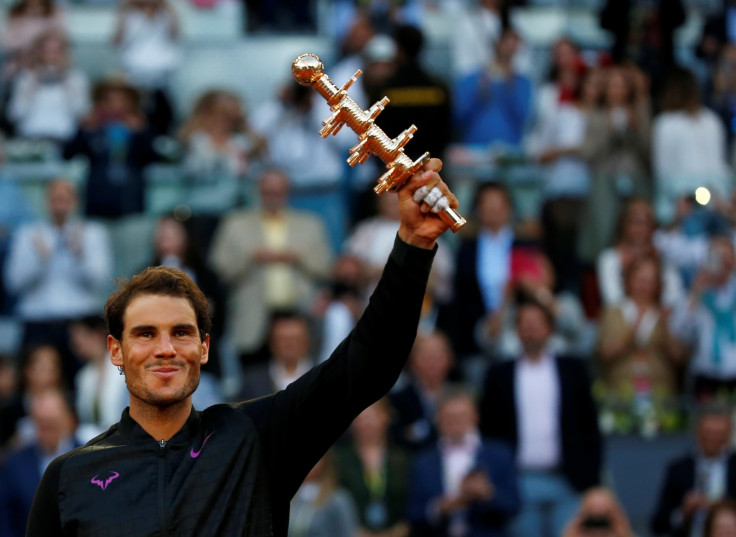 Rafael Nadal continued his dominance on the clay court swing of the 2017 season after picking up his third title of the year at the Madrid Open on Sunday (14 May). The Spaniard has picked up back-to-back titles in Monte Carlo and Barcelona in the last two weeks.
With these wins, the 30-year-old has now overtaken Roger Federer in the overall ATP rankings to number four in the world.
Nadal is aware that a higher ranking will help him when the draw for the French Open (28 May – 11 June) is made, as it will mean that he will face the top ranked players only in the latter stages of the competition. But the nine-time French Open winner is unconcerned maintaining that if he plays good tennis the ranking will not matter.
"To try to win Roland Garros, you don't need to be No 4 or No 1 or No 5, what you need is to play tennis very well," Nadal said after his win in Madrid, as quoted by Tennis World USA. "This is the situation right now. In my career, being No 4 or No 5, I don't think it changes a lot for me. What I'm really happy about, I really enjoy, is to achieve a title like here in Madrid, to win a title like this."
Nadal suffered a wrist injury early in the 2016 season, and despite playing through the pain for most of the year, he ended it pre-maturely in October. After coming back from a lengthy layoff, the 14-time men's singles Grand Slam champion has made six finals in the eight tournaments he has played thus far.
The Spanish tennis star is the best player on tour in 2017 and his current form has installed him as the favourite to claim a 10<sup>th crown at Roland Garros. Nadal revealed that he comes into a season with no expectation but is confident that he can challenge for titles if he plays at his best in every event.
"Normally, I don't expect anything. I go my way and things happen. I just try to do things as best as possible. After that, I am conscious that if I am fit and I can play well, I have the capacity. I see myself being able to win important titles and achieve my goals," he added.
"After that I don't think whether I can or whether I can't do something. I just play every single tournament without thinking a lot of things. I just try to focus. I'm not thinking about the race or anything like that. I just try to go to each tournament to give the best of myself, being conscious when you are in the good way, as I am this year, I have confidence and security in myself.
"But in December or January, I was not expecting to play badly, because I knew I was doing a very good off-season. I was expecting to play well. Of course, things are working out, and I'm very happy for that."
© Copyright IBTimes 2023. All rights reserved.