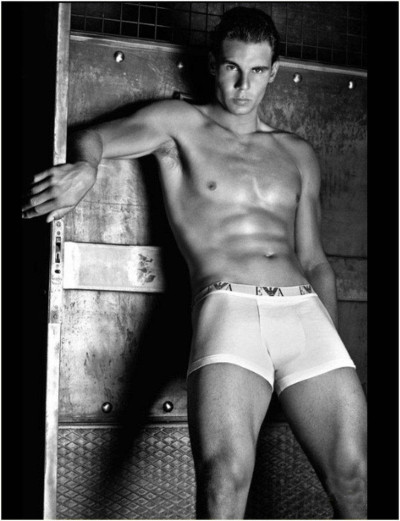 Sexy images have been released of tennis sensation Rafael Nadal modelling as the new face and body of Armani's autumn/winter underwear and jeans campaign.
Nadal was announced as the new face of Emporio Armani Underwear and Armani Jeans in July.
The Spanish born athlete has not only triumphed in the tennis world, but also in fashion capturing the attention of such a prestigious brand, being Armani of course.
Nadal, who came runner up at the Wimbledon tennis championships this year, said his new modelling side-line had been a positive influence, reports the Mail Online.
The campaign, shot in all black and white by photographer Steven Klein, sees Nadal posing seductively in a number of Armani's classic, clean underwear pieces in what appears to be a dark, murky cage.
Although the tennis player no doubt looks sexy, what is debatable is his odd posing namely one of Nadal lying on a wooden floor on his front, which makes a change from Armani's past clearly seductive posing campaigns.
Speaking of the campaign, the tennis player said:
"Now that I'm working with Armani [it] is a new experience,' he said. 'It's a different world that is very positive for me. I enjoy it a lot" quoted the Daily Mail.
Nadal follows in the footsteps of other prestigious sports stars, including Cristiano Ronaldo and David Beckham, who have also modelled underwear for the Italian fashion house.