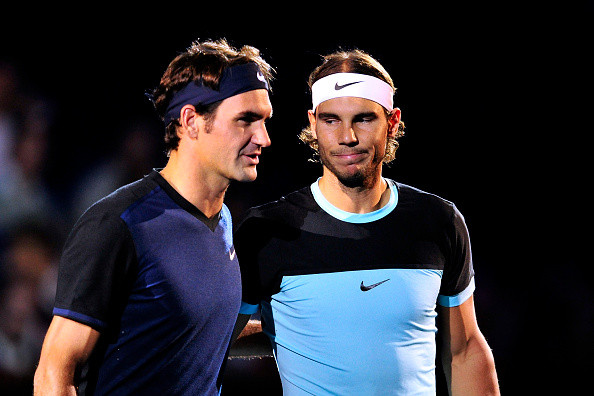 Rafael Nadal admitted that he is 'very happy' to see long time rival and friend Roger Federer back on the ATP tour after a lengthy injury absence.
The Swiss ace took a six-month break from the game owing to knee injury troubles, and made his comeback at the Hopman Cup in the New Year and his old foe is happy to see him back. The duo will play the upcoming Australian Open and could even meet in the third round – an earlier than expected meeting is owing to their drop in the world rankings.
Nadal, who is also coming back from a injury, has made it clear however that he will not judge his progress at least until the after three months on tour. He started off with a win at the exhibition tournament in Abu Dhabi, where he beat the likes of Milos Raonic and Tomas Berdych, but lost in the quarter-finals in his first ATP tournament at the Brisbane International. The Spaniard is now preparing for the first Grand Slam of the year in Melbourne.
"The good thing is that Roger is back on tour after probably his first important injury," Nadal told The Australian.
"That's tough but he looks great. He's played some good matches there in Perth (at the Hopman Cup) so I'm very happy for him," he added.
"I think that I had a great off-season so I am excited about these next few months. You cannot say something about how Roger is, how I am, in just two weeks.
"In Melbourne anything could happen, but I give myself a little bit more time, three months, and after Miami, let's see how I am," the Spaniard explained, referring to the Miami Open that happens at the end of March.
The 14-time Grand Slam champion also took time to praise the new generation of players currently trying to make a mark on the ATP tour. The likes of Dominic Thiem, Milos Raonic and Nick Kyrgios among others have impressed in recent seasons.
"These guys are doing well. It's great to have a new generation of fantastic players there and that's good for tennis. Tennis needs it.
"People sometimes get bored to see the same players all the time," Nadal added.