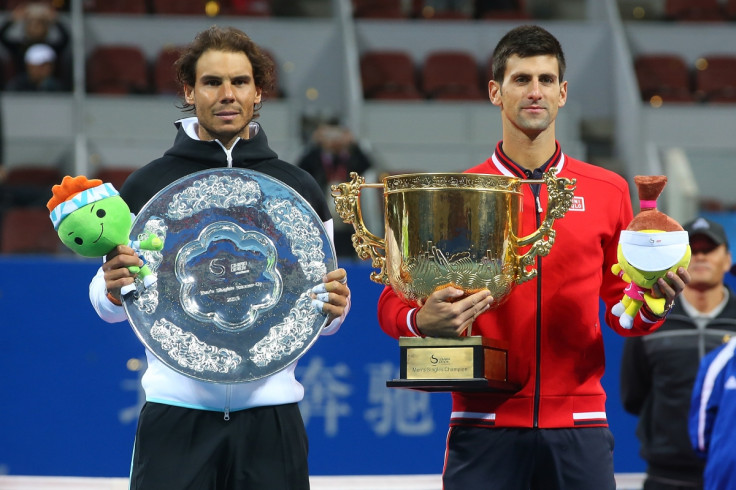 Rafael Nadal and Novak Djokovic meet against for the first place in the final of the ATP World Tour Finals in London.
Where to watch
Nadal vs Djokovic is live on BBC 2 HD, Sky Sports 4HD and BBC Radio Five Live sports extra at 2pm.
Preview
Novak Djokovic's pursuit of a record fourth successive ATP World Tour Finals crown continues against great rival Rafael Nadal at the O2 Arena in London. The pair face each other for a 46th time for a place in Sunday's final.
Djokovic's grip on his title which he has won in the last three years has loosened somewhat during the preliminary round after the world number was beaten conclusively by Roger Federer in straight sets. The 10-time major champion did win his other two group matches against Kei Nishikori and Tomas Berdych but there are questions over his form.
Nadal meanwhile progressed to the last four with a 100% record and produced fine displays to see off both Stan Wawrinka and Andy Murray, before a two-and-a-half hour win over David Ferrer. His duel with his Spanish counterpart less than 24 hours before his semi-final could yet come back to haunt the nine-time French Open champion.
Despite having lost six of the last seven clashes between the two, Nadal still has a winning record over Djokovic who can level their rivalry for the first time with a fourth win of the year over the world number five. Djokovic won at Monte Carlo, Roland Garros and Beijing without dropping a set; representing a daunting challenge for the former world number one.
What the players say
Rafael Nadal: "I am playing well. I going to try to keep playing the way I am playing. Then maybe is not enough. But I cannot go crazy. I cannot go on the court and thinking that I have to do something that I cannot do it.
"I going to try to play my game. I going to try to play aggressive. I going to try to be strong mentally. I know the surface is better for him than for me obviously. So the things are in his part.
"He plays in a very good surface for him. He plays a tournament that he won already couple of times. He come here after having an amazing season. All the positive things are for him."
Novak Djokovic: "It's a fact that he's been playing better and he's been raising his level ever since US Open, I think. Already in China, playing finals in Beijing, semifinals in Shanghai, you can feel that he's starting to get comfortable on the court, start to play better.
"The couple of matches, first couple of matches he played here against Wawrinka and Murray showed that, showed that he feels more confident, shows that he's starting to miss less, serve efficiently, use his forehand much better.
"I know that, I've been watching. I know what is expecting me. We played so many times. I'm going to get ready for that one and hopefully I'll be able to play at my best."
Betting odds (source William Hill):
Rafael Nadal 9/2/ vs 1/7 Novak Djokovic
Head-to-head record: Nadal 23-22 Djokovic. Last match Beijing (hard) Djokovic bt Nadal 6-2 6-2
Previous meetings at the ATP World Tour Finals: Nadal 2-2 Djokovic. Last match Djokovic bt Nadal 6-3 6-4