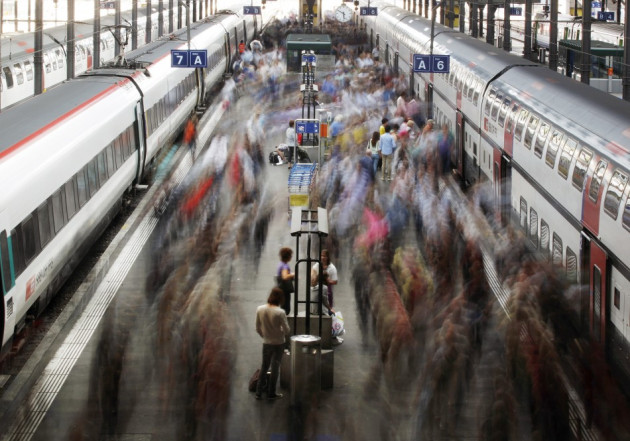 Rail fares are set to rise by 6.2 percent in January, sparking a day of protests from unions and passenger groups.
The government has allowed train operators to increase English fares by 3 percent above the Retail Price Index, which stands at 3.2 percent, with Scotland facing a 1 percent increase above inflation.
In some cases, rail operators will be allowed to increase fares by an additional 5 percent - taking the total increase past 11 percent, almost four times current inflation.
In real terms, the proposals would mean a £1,000 increase in the price of season tickets on certain routes by 2015.
Platform for protest
Protests have taken place at stations across the country, organised by the TUC's Action for Rail Campaign, which aims to protect passengers from the government's austerity programme.
Frances O'Grady, deputy general secretary of the TUC, said: "These fare rises will add even more pressure to passengers already feeling a massive squeeze on their incomes."
Referring to the government's Rail Command Paper, which proposes shedding up to 20,000 jobs across the rail industry, O'Grady added: "The government is asking train operators to make cuts to staff on train stations and in ticket offices, while continuing to receive public subsidy and give millions in dividends to shareholders.
"Passengers are being asked to pay more to get less. We want cuts to rail fares, not rail staff."
Bob Crow, general secretary of the Rail Maritime and Transport Union (RMT), said: "Passengers will be rightly angry when they find out the full extent of the inflation-busting fare increases imposed on them by government diktat.
"The idea that this extra money will be invested in the railways is a sick joke. It will simply be trousered by the greedy train operators, same as it always has been since privatisation."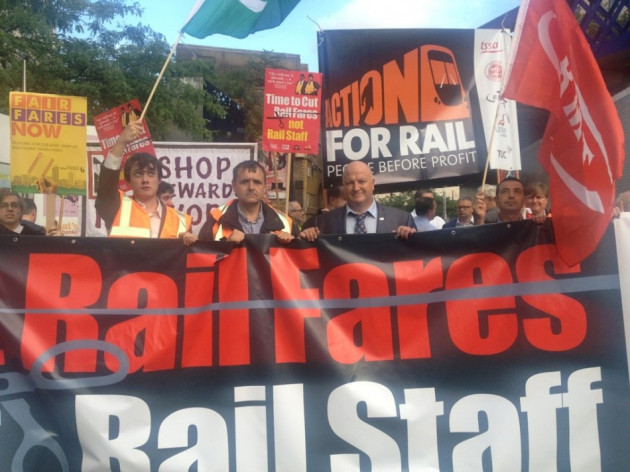 The TUC protests were attended by a number of passenger groups.
Stephen Joseph, chief executive of the Campaign for Better Transport, said: "The government knows they cannot continue to hit [car] commuters - that's why they've postponed the fuel duty increase. Now they need to give the same help to rail users."
Cold feet in the coalition
In light of the public animosity to her department's proposals, transport secretary Justine Greening may reconsider the increases.
Greening said: "I am keen to see what we can do to keep rail fares down to something affordable. I am looking at whether there is a way of doing that in the autumn, but we have to stick with our deficit-reduction policy."
Greening has been outspoken in the past about her plans to cut out major fare rises but her aim does not correspond with government calls for cuts in taxpayer subsidy. Operating companies have increased fares to counterbalance the drop in tax revenue.
Michael Roberts, chief executive of the Association of Train Operating Companies, placed responsibility for the fare increases at the government's door.
"It has been government policy during the past eight years for passengers to pay a larger share of the cost of operating the railways, and to focus taxpayers' money on investing in longer-term improvements to the network.
"Any flexibility train companies have within the rules is to maximise revenue for the government."