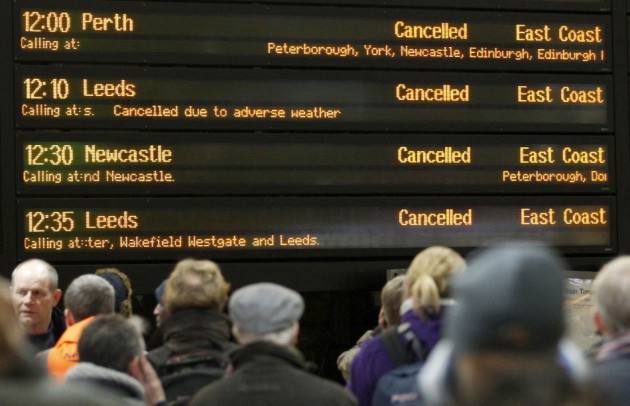 A rail passengers group says we "deserve better" as commuters' stagnant wages are again squeezed by rising fares.
Fares will rise an average of 5.9 per cent in January, according to the Association of Train Operating Companies (ATOC).
"The spotlight will really be on train operating companies and Network Rail to deliver on their promises about performance and overcrowding," said Anthony Smith, Passenger Focus chief executive.
"Us passengers are paying our fair share and we want and deserve better."
A government cap on rail fares in Chancellor George Osborne's Autumn statement means they can only rise at a rate of RPI+1.
One rail passenger blasted the rises as "excessive" with "no tangible improvements in service".
Another, student Jonathan Holmes, said: "Companies like Northern Rail are still using outdated rolling stock, why am I paying more for the same service?"
John Thackeray, also a railway user, added: "It's not on. The prices don't reflect the service."
ATOC blames the government for year after year of fare rises as it seeks "to sustain investment in the railways by reducing the contribution from taxpayers and increasing the share paid by passengers".
Taxpayers subsidise railways by around £4billion, with rail passengers contributing around £6.5billion.
For every pound rail companies receive, it is broken down as follows, claims ATOC:
48p - to Network Rail and other infrastructure costs
17p - miscellaneous costs (including train maintenance, administration, contractors)
3p - train company profit
"Money raised through fares helps pay for new trains, faster services and better stations," said Michael Roberts, ATOC's chief executive.
"The long-standing government approach to sustaining rail investment is to cut the contribution from taxpayers and increase the share paid for by passengers.
"The industry is working together to continue cutting costs as a way to help limit future fare rises and offer better value for money for taxpayers over the longer term."
Labour's opposition transport spokesperson blamed the coalition for not getting to grips with Network Rail.
"The government has completely failed to fulfil the commitment in the Coalition Agreement to make Network Rail more accountable," said shadow Transport Secretary Maria Eagle.
"It is now time to tackle Network Rail's corporate governance structure that has neither shareholders nor effective accountability to government or parliament.
"Despite taxpayers continuing to fund the rail industry to the tune of nearly £4 billion every year, this poor governance has led to a culture where over £5 million in bonuses and benefits has been paid to just half a dozen senior Network Rail staff in the last five years alone."