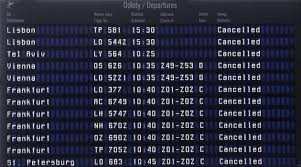 Tourists and the travelling public in France have been caught by a second wave of strikes as a two-day air traffic controller dispute gives way to industrial action on the railways.
Rail workers on the state-owned SNCF network have started a 36-hour strike in protest at a restructuring of the company.
The action started as French airports started to get back to normal after strike action.
Up to 70% of train services in France were expected to be cancelled today (Thursday). The action is due to end on Friday morning.
Commuter traffic around Paris has been especially hard hit and services have been slashed to a third of the normal schedule. Only one in three trains have been guaranteed.
A spokesman for Eurostar said that the London-Paris service was running normally but passengers planning onward travel should consider alternative arrangements.

Thousands of domestic and international flights were affected by the aviation dispute with up to three-quarters of scheduled flights cancelled or delayed.