Range Rover Velar: King of the urban jungle? Hands-on and everything you need to know
Jaguar Land Rover unveils its new SUV, blending on-road luxury with off-road prowess.
A Rolex Submariner surviving a plunge to 300 meters is the same as the new Range Rover Velar's ability to wade through 650mm of water without getting your bespoke shoes wet. Neither is likely to find itself in such an environment, but the owner of both will no doubt find comfort in knowing that, if push came to splash, they'd be fine.
The Velar, despite the off-roading, river fording, hill-scrambling Land Rover DNA pumping through its veins, is more at home scything down a Knightsbridge side street or parked outside the Casino de Monte-Carlo. Sitting between the Evoque and Range Rover Sport, the Velar is a luxury SUV with a low-slung, long-wheelbase stance and Land Rover's most stylish and technologically-advanced interior yet.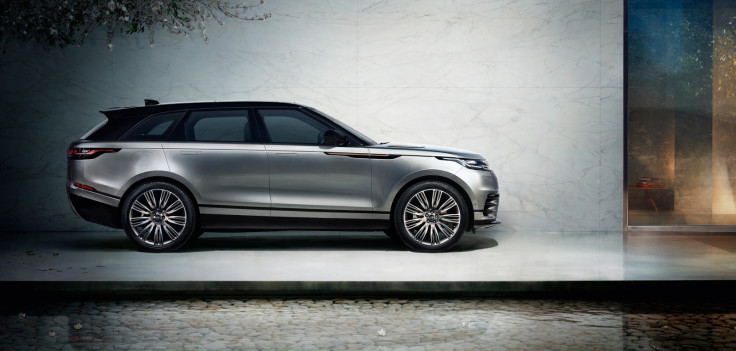 Stemming from the Latin word velare, meaning to veil or cover, the Velar is also a nod to Land Rover's past, for it was the name displayed on prototypes of the original Range Rover back in the late-Sixties to conceal the car's identity while out testing in public. This might make for a neat family-tree etymology, but today it seems ironic for a car likely to be bought by those who enjoy the limelight more than the shadows.
The 2017 Velar stands for refinement, luxury, glamour and modernity, Land Rover's chief creative officer Gerry McGovern told journalists at a private preview of the car a month before its launch. "The world this vehicle sits in is a world of luxury and premium products. People don't need them, they desire them." This, McGovern says, "is the key" to the design principles behind the Velar, which Land Rover is pitching squarely at the luxury market, despite it technically sitting two rungs below the flagship, full-fat Range Rover.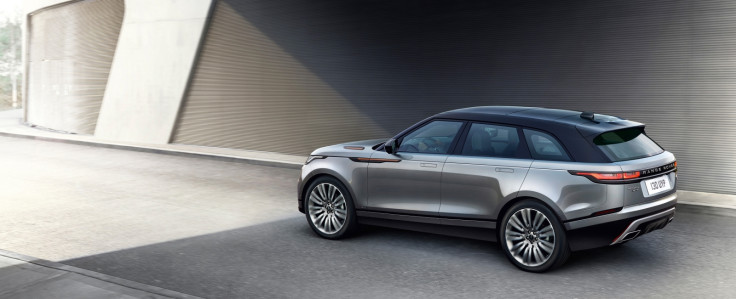 Feeding an 'insatiable appetite for bespoke luxury'
Priced from £44,830 to £72,630, the Velar firstly plugs a gap between the respective £30,600 and £59,700 starting points for the Range Rover Evoque and Sport. Then with the fully-loaded 'First Edition' models it charges onwards, infiltrating the full-size Range Rover's price bracket by almost 10 grand; available for the 2017 model year only and in just three colours, the Velar First Edition is priced at £83,350 or £85,450 depending on whether you go for the V6 diesel or petrol engine. The Velar will go up against the similarly-sized Porsche Macan, which starts at £43,553 and extends up to £70,000.
During a 40-minute presentation the Velar is likened to a luxury watch on several occasions, especially when we are shown a set of 'brushed copper' gills which channel air through the front bumper and would likely look out of place on any other vehicle in the Jaguar Land Rover stable. "If you compare us to the watch industry this is our rose gold. On a luxury product like this it is absolutely appropriate," McGovern says.
A theme throughout the Velar's design is using length and sleekness to be both low-profile in size, yet aesthetically eye-catching. This is achieved by removing height from key elements like the front and rear light clusters and indicator repeaters. Slim slivers of LED lights wrapped around its corners bring down the height of the car, and so too does a continuously tapering line along the top of the three panes of side glass – a line echoed by the sloping roof and rear spoiler. Short overhangs front and rear give the Velar an agile pose, as if ready to sprint away from prying paparazzi with a a pair of A-lister in the back seats.

Technology...but not for the sake of it
Another aspect of the Velar Land Rover wants to hammer home is its use of technology. It is the most technologically-advanced Land Rover ever made (no great surprise, it being the newest and all...), and ushers in an all-new infotainment and touch screen system called Touch Pro Duo.
McGovern says the Velar boasts "an abundance of technical features", but the touch screens and gadgets aren't merely there for the sake of it. "Technology on its own is an absolute turnoff," he said, believing there is no emotional connection between humans and technology itself. This changes, he explained, when the technology helps enable the driver to do something new or achieve something more easily. We can't help but wonder which gimmick-loving manufacturers McGovern thinks work from a different playbook.
As a result, the Velar's cabin features three high-definition screens; one behind the steering wheel to replace conventional dials (in all but the two most basic trim levels), plus two 10in touch screens in the centre console. There is also a 4G connection and Wi-Fi for connecting up to eight devices at once.
The upper display is a widescreen panel for showing commonly-used apps like the sat-nav, phone and music playback, while the lower touch screen sits behind two rotating dials and displays a range of context-aware controls. Tap to adjust the climate and the dials control the fan speed and temperature; go off-road and the screen changes so that the dials now manage the Velar's all-terrain system.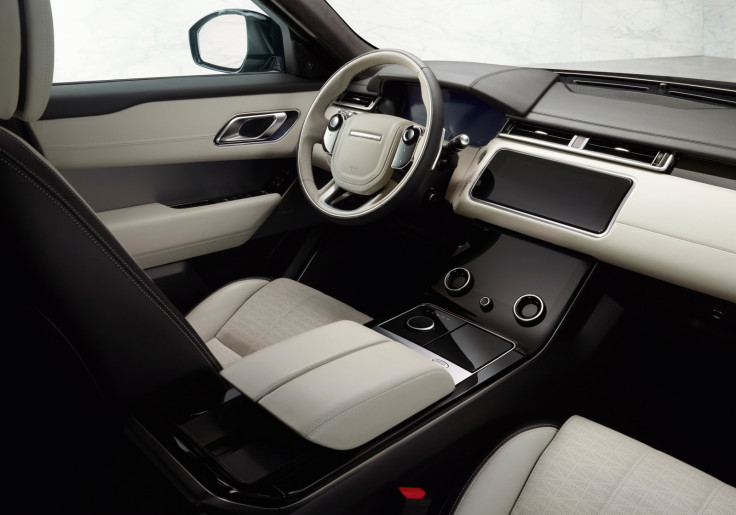 Speaking of all-terrain, the Velar is expected to be as at home on the King's Road as it would be wading through a Welsh forest. Land Rover's Terrain Response 2 and All Terrain Progress Control systems are both optional extras should you want to get your shoes muddy. The Velar has a wading depth of up to 650mm, 150mm more than the Evoque but 250mm down on its larger siblings.
A new set of capacitive touch controls on the steering wheel both click and issue a haptic tap to your fingertips when you press them, making it easier to operate the cruise control without looking away from the road.
Another example of technology with a purpose is the flush exterior door handles which only deploy outwards when you need them. These help the Velar cut through the air more cleanly and contribute to the car's 0.32 drag coefficient, making it the most aerodynamic Land Rover yet.
Hands on with the Velar
Our hands-on time with a pre-production Velar quickly revealed how the car is much more than a tarted-up Evoque, which itself is almost seen as the affordable 'Range Rover of the people'. The Velar is closer in design and ethos to the Sport and full-size Range Rover, but without the whiff of either the football training ground or Boxing Day shoot.
Even the early development vehicles we saw oozed sophisticated luxury and projected a design which seems closer to concept than reality, despite being ready for mass production. The low, swept-back stance is striking without being vulgar (although we're sure the options list can easily change this), and there's a sense of speed and urgency to it. If a Batchild or two forced Bruce Wayne to trade in the jet black Lamborghini for an SUV, he'd buy a First Edition Velar, no question about it.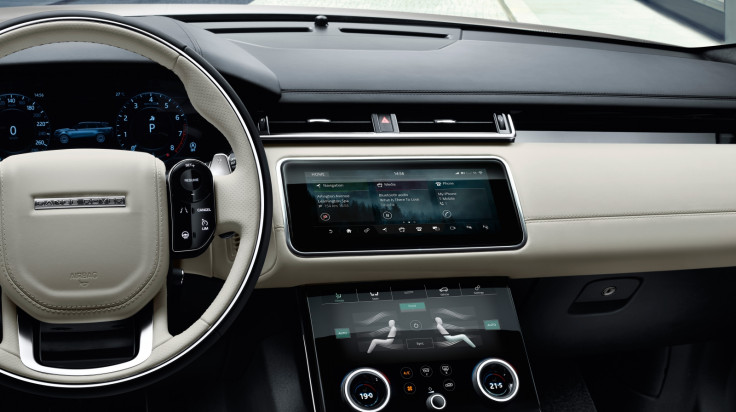 The interior is a bold departure from the current Land Rover house style, but is a well executed transition into the future. We love how the lower touch screen replaces many physical controls with just a display and two dials, but hope ergonomics haven't been sacrificed in McGovern's pursuit of minimalism. If we can prod at the digital controls with more accuracy than a Tesla dashboard then we'll be happy.
Five engines are being offered for the Velar at launch, starting with two 2.0-litre, four-cylinder diesel with 180 and 240 metric horsepower respectively (177bhp and 236bhp in old money). Next comes a 3.0-litre V6 diesel with 300PS and then two petrol options; a 2.0-litre, four-cylinder with 250PS and the range-topping 3.0-litre V6 with 380PS. A third petrol option with 300PS will be along later in the year.
Acceleration to 60mph starts at 8.4 seconds in the entry-level diesel and shortens to 5.3s in the V6 petrol. Top speed ranges from 130mph to an electronically-limited 155mph, while CO2 emissions on a combined cycle start at 142 grams per kilometer and extend up to 214. Every Velar comes with the same eight-speed ZF automatic gearbox and steering wheel-mounted paddle shifts for when you want to change gear manually.
There are two body styles to choose from, the formal HSE with its more rounded, softer appearance, and the sportier-looking R-Dynamic, featuring a set of brushed copper gills, a black roof and more menacing mouth.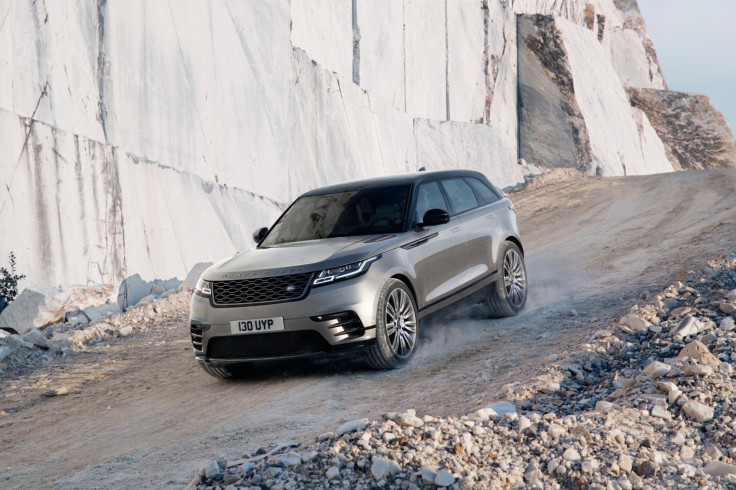 Seats made from plastic bottles
Although leather remains a key part of the Velar's interior, buyers have the option of choosing a more sustainable and environmentally conscious material instead. Made from recycled plastic bottles, the 'suedecloth' fibres have a high-quality feel to match the rest of the car, but are not animal products. While it isn't quite on the same level as Tesla's optional vegan interiors, Jaguar Land Rover expects to see man-made materials become as commonplace as the company's soft Windsor leather in the coming years.
The Velar will be produced in Solihull, England and goes on sale worldwide in mid-July, 2017. After being launched in London on 1 March, the Velar will see its first public outing at the Geneva motor show, which opens to the press on 7 March and the public from 9 to 19 March. We expect to see the car being made available for review in the summer of 2017.
© Copyright IBTimes 2023. All rights reserved.