Acapulco: 'I Was Gang Raped and Tortured and Mexican Authorities Did Nothing'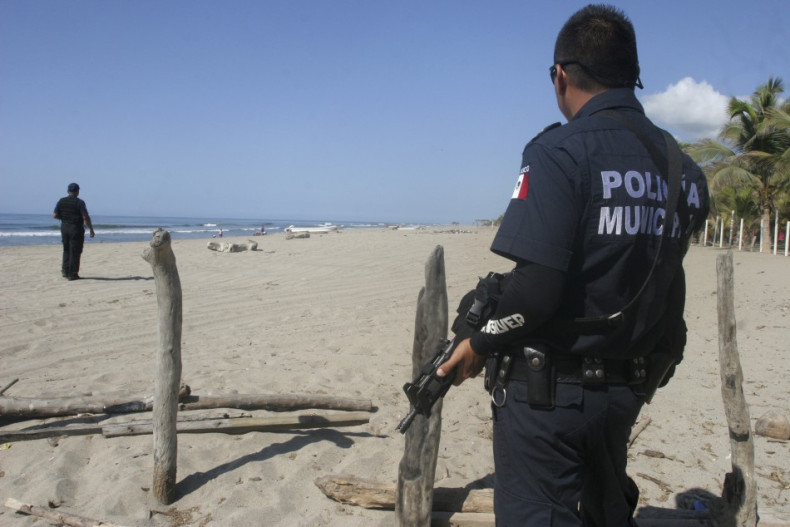 Held down to the floor by two masked men, as the gang leader raped her, Sandy prepared to die. Her husband John was lying in a pool of blood in front of her. It was his birthday.
Memories of the nightmare came rushing back last week following accounts of an almost identical gang rape of six Spanish tourists in Acapulco, hit the headlines. Sandy contacted IBTimes UK, which first broke the story, to issue a stark warning of the lethal danger facing visitors who might arrive in search of a holiday paradise only to find themselves experiencing the worst kind of hell.
It had been almost a year since Sandy and John - the names have been changed to protect their anonymity - had decided to leave Mexico, where they had been living since 2005, intimidated by the escalating violence that surrounded them.
Kidnappings, carjackings, extortions and robberies had become too frequent to ignore, even from the apparent safety of their new house, nestled in the verdant tidiness of a golf club on a famous beach resort north of Acapulco, in the western state of Guerrero.
However, before flying back to the US, the couple of real estate developers had to finish the construction of a house in which they had invested all their savings.
They were just a few weeks from the work's completion, when, at about 2am at the end of a joyful Sunday spent realxing around the pool celebrating John's birthday, Sandy peered through the big sliding glass doors facing the garden and, to her horror, saw three men with flashlights running towards her.
Desperate the couple, then in their fifties, set off the car alarm and started yelling for help, hoping that the security guards patrolling the nearby upscale condos would come to their rescue.
Before one of the attackers could smash the glass door with a brick, Sandy frantically dialled the police's emergency number three times. No one answered and the men invaded their home.
"There was broken glass everywhere; John and the main guy started fighting and John was beating the crap out of him with the steel bar he used to keep under the bed. Meanwhile the other two were trying to get hold of me, as I was running around screaming my head off," Sandy told IBTimes UK.
The man brawling with John took a gun out and, as the two were fighting over it, a shot went off and hit the ground.
"That kicked everything up a notch. It was frantic, I went in overdrive and one of the attackers got me in a neck lock and smacked me in the head with a gun."
Harrassment and torture
Terrified for his wife, John gave up the fight. The robbers pulled him to the ground and started kicking and bludgeoning him with his own steel pipe.
"I started screaming; "Stop! Stop! You are going to kill him!' And then they stopped. They knew they had us under their control at that stage. They covered John with a carpet and placed a chair on top of him.
"They put me on the sofa. One guy held us at gunpoint, while the other two started ransacking our house and doing horrible things to me.
"They began harassing me, sticking their penis in my face, putting a gun in my ear and just tormenting us."
One of the attackers was about 18 years old while the other two were in their late 30s, Sandy said.
"They wouldn't let us talk. If I asked John if he was OK I would get smacked. They were laughing, they thought it was funny."
Sandy and John were held hostage in their own house and tortured for more than three hours.
"We were completely at their mercy. There was no point in the brutality other than they enjoyed doing it."
The assailants drunk all the booze they had in the house, smashing the bottles to the ground, and "wrecked everything".
Undisturbed, they loaded the couple's car with all sorts of goods, from ceiling fans to computers, passports to cell phones.
Sandy was forced to give up their debit cards' passwords. One of the three attackers had the time to go to a nearby ATM, check the codes and come back unnoticed.
"The whole time we were thinking someone will help; a neighbour would come or call the police."
Nobody came.
A valet in a neighbouring building later said he had heard everything but wasn't able to call for help as he hadn't topped up his mobile phone. However Sandy can't blame him too much.
"Mexicans are afraid to call the police, as they don't know who the good and bad guys are. You never know whose toes you are stepping on."
"Nobody would come to your assistance, because what they are going to do? Walk unarmed into an armed situation? There is nothing they can do but lock the doors and hope someone doesn't come to their house."
Rape and stabbing
As they had finished loading the car, one of the attackers took a set of kitchen knives John used to nourish his cooking passion and started sharpening them, one against the other, behind Sandy's head.
"We both thought: 'this is it'. They are going to kill us and cut our heads off because that is the way it happens there."
A couple of months earlier, three severed heads were found in bags in the tourist resort of Acapulco, Guerrero, in one of the violent episodes that convinced Sandy and John it was time to leave.
They had moved in the Central American state in 2005, after a life spent in between the Wylye Valley, Wiltshire, in the UK (John is British) and the US - Sandy is a Washington state native.
"At that time there was some nastiness going on at the border but nothing like it is now."
According to Sandy, who first visited the country aged five on a summer holiday with the family, things in Guerrero started deteriorating, as a turf war between two recently formed groups - the Michoacan Family and the Templar Knights - erupted.
"Everybody says that if you have nothing to do with drug business you don't have anything to worry about but that's simply not true."
"Things were getting bad even in our area. We stopped going to some beaches and we lived a very low profile life. We hardly ever went out at night. What we didn't know was that it was going to visit us on our doorstep."
However, instead of beheading them, the attackers started playing a sick game.
"The guy came around the sofa and started stabbing the knife all around my body into the couch - as close to my body as he could get without actually hitting me. I was trying to make myself as small as I could - they were laughing."
The gang leader approached John, who was still lying underneath the carpet and stabbed him in the back.
"Then the young kid and the other guy held me down and tore my clothes off. The leader raped me."
Then they left. "We heard our gate opening - it is kind of creaky - and then the car drove away."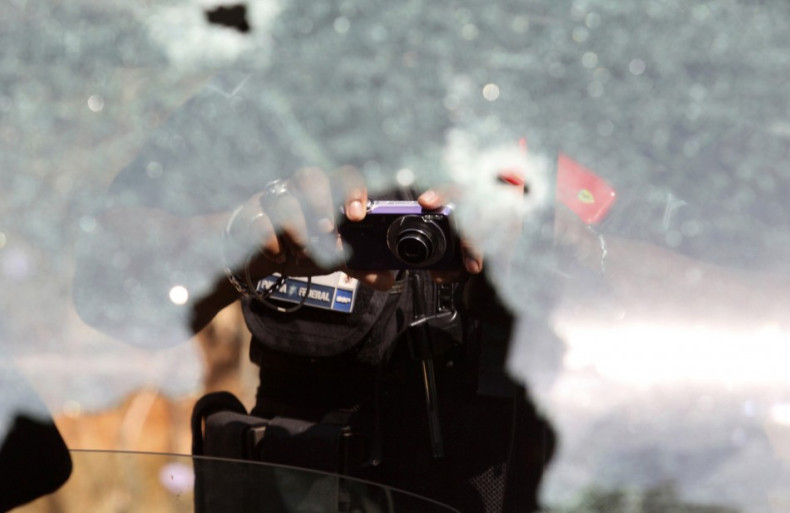 A new ordeal
Sandy and John stayed motionless in the silence of their ransacked house for a few minutes, fearing the attackers would come back. They finally found the courage to stand up and go to look for help, but a second ordeal was about to start.
Wrapping a towel around John's wound, the couple walked supporting each other on the journey to a nearby condo, where the security guard - who claimed he had been sleeping during the whole assault - called them a cab that took them to the nearest hospital.
Unbelievably, they were turned away.
"It was about 5 am, almost getting daylight and the guy at the admittance told us, yawning and stretching, that we they couldn't help us, as they had no qualified personal to deal with sexual assaults.
"John was throwing up and going into shock. The cab took us to the general hospital. They laid down John to measure his blood pressure, in the same big room where a woman was about to have a baby.
"I begged them to let me use a phone to call a friend to help us out, as we had no money, no documents, nothing. They wouldn't let me. They told me to use the pay phone out in the hall. I couldn't believe it: I had just been robbed, how was I supposed to pay for the call?"
Finally a nurse let Sandy use her mobile phone; John was stitched up and diagnosed with broken ribs.
The next day Sandy went to a special department dealing with sex crimes to report the sexual assault.
"They wanted to carry out an examination to see if I had really been assaulted. They called a man to do that. I refused but they pressured me to have the exam done and treated me like I was being completely unreasonable. Hours later, they eventually got a woman."
On the same day, local police came to inspect their house.
"There were fingerprints and DNA evidence everywhere. The condom the man used to rape me was on the floor, but police came with just a camera; no evidence bags or something. I had to give them a bunch of Ziploc bags I had myself. They were just walking around and gossiping. It was beyond belief."
Sandy and John never spent another night in the house. They put it up for sale and waited the few weeks necessary to have their passports re-issued at a friend's place before flying out to the US.
Investigations were eventually speeded up by pressure from the British and US consulates, and led to the arrest of the 18-year-old attacker, who named his two accomplices.
One had already been killed in a gunfight with police and the other arrested for another crime a few weeks later.
Fearing for their safety, John and Sandy refused to come back to Mexico and testify against the 18-year-old.
A year and a half on, the couple still bear the scars of that horrible night.
"My husband is 60 and I am 56. We had to restart from zero. We both have post-traumatic stress disorder. After it happened I felt just like a wreck, like a walking zombie. It is just terrible how people are just wrecking people's lives and then just drive off into the night laughing about it. Our lives will never be the same."
"I love Mexico, its people, its culture, its beautiful country. I've been going there for my whole life but now everything is so screwed up there."
"I'm worried about of my friends still living down there. Some are living in a state of denial even after what happened to us.
""You were unlucky," they tell us. Well, yes we were, but the chances of this happening, of being in the wrong place at the wrong time, are increasing every day."
READ: Acapulco: Tourists Tied up with Bikinis and Gang Raped by Masked Robbers
Acapulco Gang Rape: Mayor Luis Walton Sorry for Dismissive Remarks