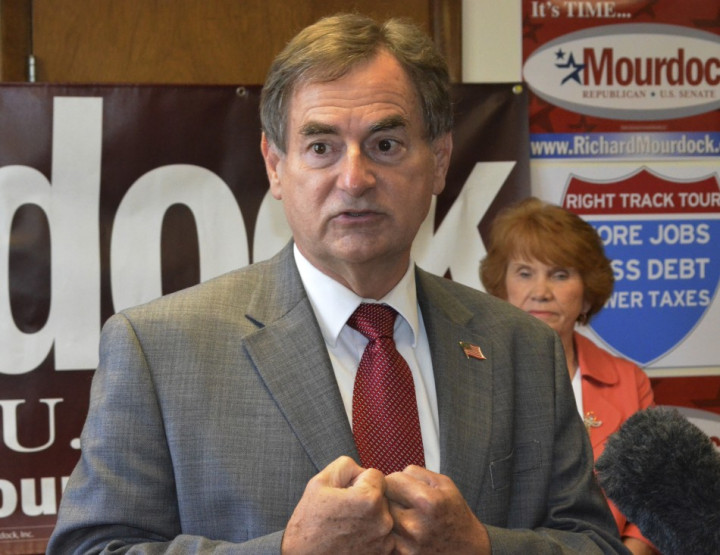 Mitt Romney's struggle to narrow the large gap in the women's vote between him and President Barack Obama has been dealt a major blow by one of his fellow Republicans after Indiana Senate candidate Richard Mourdock said pregnancy from rape was "something that God intended to happen".
The comment by the Tea Party-bacled candidate in a televised debate has triggered a wave of criticism.
"I struggled with it myself for a long time and I realised that life is a gift from God. Even when life begins in that horrible situation of rape, it is something God intended to happen," Mourdock said.
Democrats were quick to turn the comment into an attack on the Romney-Ryan ticket since the former governor of Massachusetts has publicly endorsed Mourdock and campaigned with him.
"Richard Mourdock's rape comments are outrageous and demeaning to women. Unfortunately, they've become part and parcel of the modern Republican Party's platform toward women's health, as congressional Republicans like Paul Ryan have worked to outlaw all abortions and even narrow the definition of rape," Debbie Wasserman Schultz, chairwoman of the Democratic National Committee, said.
However, Romney, who opposes abortion except in cases of rape or incest or is necessary to save the mother's life, distanced himself from Mourdock.
"Gov Romney disagrees with Richard Mourdock's comments and they do not reflect his views," a Romney campaign spokesperson said.
Mourdock tried to clarify his position a few hours after the debate.
"God creates life, and that was my point. God does not want rape, and by no means was I suggesting that He does. Rape is a horrible thing, and for anyone to twist my words otherwise is absurd and sick," he said.
Earlier this year, Republican Senate candidate Todd Akin caused great embarrassment to Romney by saying that "legitimate rape" was unlikely to cause pregnancy.
Two weeks ahead of election day Obama has a nine-point margin on Romney in women's votes, polls say.