French President Francois Hollande rolled out a red carpet welcome to Cuban leader Raul Castro when the visiting president landed in Paris for a two-day state visit. The 84-year-old leader was welcomed with military honours as Hollande sought to boost economic ties with the Caribbean island, jockeying with the US.
This is Castro's first visit to a European nation since he took over from older brother Fidel in 2008. This is also the first visit to France by any Cuban leader in nearly two decades.
Castro, who had a state dinner with Hollande, is expected to use this trip as a symbol of normalising ties with the western world. His trip follows a breakthrough deal in December 2015 under which France, Havana's biggest creditor, loosened Cuba's foreign debt.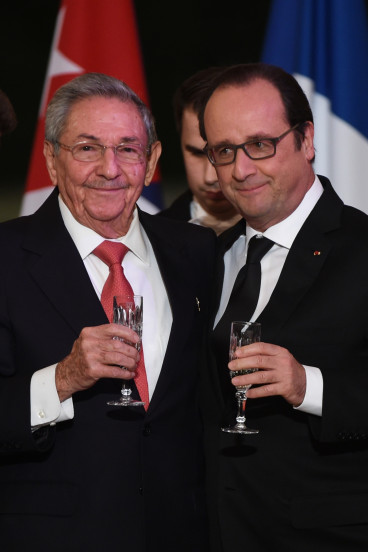 "We want to accompany Cuba on the path it has chosen to open up and develop. Opening up begins with trade," said Hollande, who is keen on expanding France's foothold in the Caribbean nation as it opens up its economy.
"President Obama should — and he's said this — follow through to allow the ending of this vestige of the Cold War," he added. Havana sees the US-imposed economic embargo as a major hurdle for its trade.
The French president, a former leader of the socialist party in the country, welcomed the communist president saying "Vive Cuba!" meaning "Long live Cuba!". The two leaders are expected to hold a joint press conference on Tuesday (2 February). Hollande visited Cuba meeting Castro and other top officials in May 2015. He was the first French leader to visit Cuba in nearly 50 years.
Analysts say France is in a better position to reap the economic benefits in Cuba after snatching the coveted role from Spain — which was once the leading moderator — after it played a vital role in the negotiations in lightening Cuba's foreign debt. The trade between Havana and Paris stands at €180m (£135m, $196m) annually and is likely to be bolstered further. A spate of deals covering tourism, transport and trade are to be signed when Castro leaves for home.