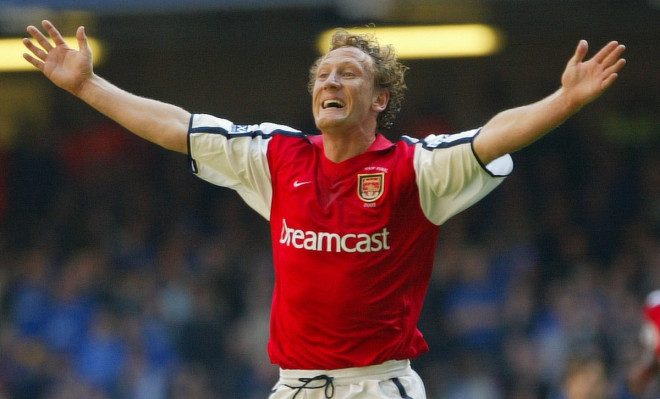 Former Arsenal midfielder Ray Parlour wants the Gunners to prioritise the FA Cup over clinching top-four position and Champions League qualification.
Arsenal, who are competing with Everton for fourth place, face Wigan in the FA Cup semi-finals on Saturday – Wigan, currently fifth in the Championship, replicated last season's stunning final triumph over Manchester City by beating them at the Etihad to reach the last-four.
Speaking on behalf of official FA Cup supporter williamhill.com, Parlour, who lifted the FA Cup four times together with three league titles, believes winning the tournament is now more important for Arsenal than qualifying for the Champions League.
"For me it's all about winning trophies. I know the Champions League is important as well but if someone asks you at the end of your career what you've achieved and all you've got is coming fourth eight years running – what is that?
"It's great for the club financially but you don't want to be a professional footballer to make money for your club – the whole objective of being a footballer is to win.
"I was lucky to win lots of trophies when I played and for the history of the club it's all about silverware.
"It would give the club a big boost for next season because all those players are good players but they need to win something together.
"That's the big thing for me – fourth and a trophy would be fantastic but if I had to pick fourth and no trophy or fifth and a trophy, I would definitely take the trophy."
Parlour admits the pressure on boss Arsene Wenger will be enormous if Arsenal fail to lift the FA Cup but the two-time double winner believes fans should be careful what they wish for – Arsenal's 2005 victory in the famous knock-out tournament remains the team's last triumph, with the lack of silverware becoming a source of growing frustration in recent years.
"The pressure on Arsene would be huge if they don't win the FA Cup, there's no doubt about that. You look at how some of the Arsenal fans react at the Emirates, they're fed up with how the team are playing.
"But changing a manager, it's not easy, you've got to have a plan. There are other good managers around the world, but a lot of them are in good jobs and would they leave their job to come to Arsenal? They have to know the next guy could do as well if not better than Wenger and the grass is not always greener."
The Gunners are currently fourth in the Premier League table, one point above the Toffees but Wenger's side may miss out on Champions League football if Everton win their remaining six games as they still have one match in hand.