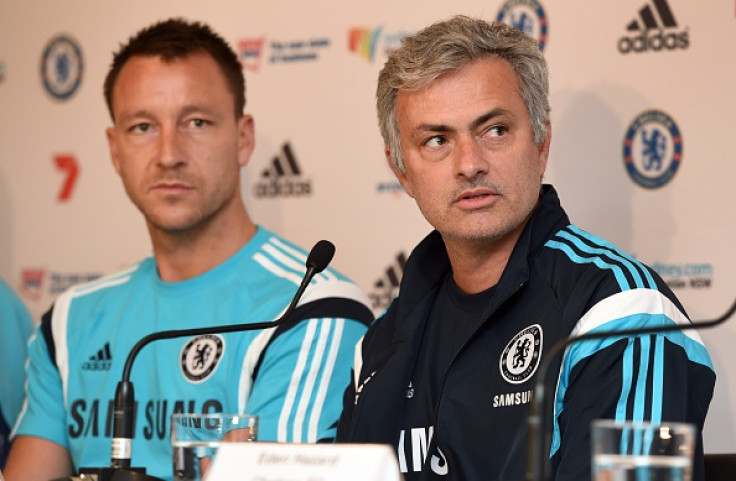 Former Chelsea assistant manager Ray Wilkins has suggested that Chelsea legend John Terry could be offered a chance to play under Jose Mourinho at Manchester United, if the latter is appointed as the Red Devils' manager in the summer. The captain's contract runs out at the end of the season and the Blues will not hand him a new deal, until a new manager is appointed.
The west London club have Guus Hiddink as their first-team interim manager until the end of the season as he replaced Mourinho, who was sacked from his job at Stamford Bridge last December. Terry was told a new deal can only be given after consulting the incoming manager, which made the centre-back unhappy and he announced his decision to leave the Premier League champions in the summer.
Terry has suggested that he will not play for another Premier League club. Despite that, Wilkins, who played at Old Trafford between 1979 to 1984 is of the view that Mourinho will approach Terry to join him at United.
"That would be a cheeky one from Jose but I wouldn't put it past him. He will have that in his locker. Whether John would actually go to another Premier League club is another matter. He has stated that he wouldn't, so that will be interesting," Wilkins told talkSPORT.
Mourinho is believed to have agreed a deal with United to replace Louis van Gaal in the summer, according to the Mirror. The Portuguese tactician is without a job since he was sacked from Chelsea at the end of 2015, and Wilkins suggested the ex-Real Madrid manager would be the right candidate, if the Red Devils decide to replace the Dutchman.
"Mourinho is one of the best in the world. His record speaks for itself. We mustn't jump the gun – Van Gaal is in post - but if that was to change and Mourinho goes in, he is top drawer," the Blues' assistant manager said.