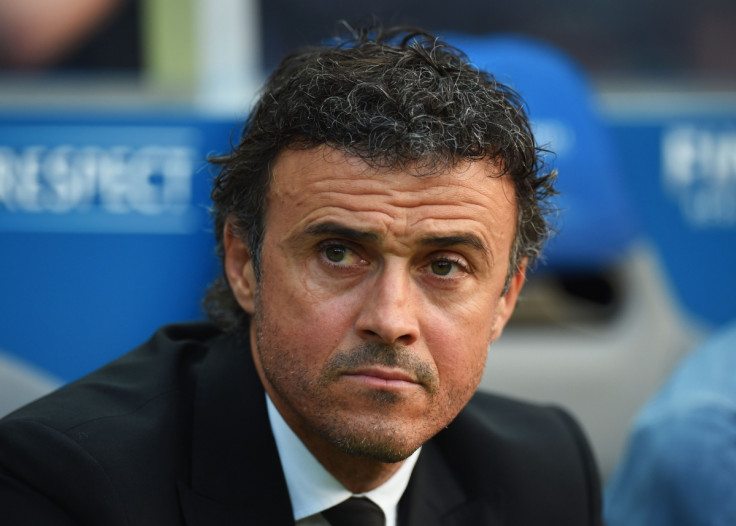 Luis Enrique has insisted the La Liga title race is far from over, despite the fact a victory for Barcelona over Rayo Vallecano on 3 March would see them move eight points clear at the top of the table. He also played down concerns that Luis Suarez was on the brink of burnout triggered by the number of games the former Liverpool star has played this season, in a discussion of the relatively injury-free season Barca have had compared to their rivals.
The Champions League winners are enjoying an impressive campaign. They are top of La Liga, booked their spot in the Copa del Rey final and are all but qualified for the Champions League last 8 following a first-leg away win over Arsenal. The treatment room has also been similarly blessed, with just Rafinha Alcantara being out for a significant period of time.
Even then, the Brazilian midfielder is close to action, and Luis Enrique will have almost all of his first-choice eleven available against Rayo Vallecano with the exception of the suspended Dani Alves. Sergio Busquets and Sergi Roberto sparked doubts over their participation after missing training on Monday, but they returned to workouts on Tuesday. If the pair do not play, it will likely be down to them being rested rather than injured.
This is not the situation faced by Barca's arch-enemies Real Madrid, who have suffered from a variety of vital players going down with muscular issues throughout the season. On Wednesday night, the club face Levante with at least five first-team injured players, including Gareth Bale, Karim Benzema and Luka Modric.
Asked in the press conference ahead of the trip to Vallecas about the reasons behind the lack of injuries, the Barcelona boss said: "I don't know. I guess there is not just one reason. There is no reason when we have injuries and there is not one when we haven't. We have very good medical services. I know it. We always can improve."
Luis Suarez has started all but one La Liga game this season, featuring for a total of 3,540 minutes, almost 400 more than Neymar. The Barca gaffer, however, is not tempted to rotate his strike force in the upcoming game, despite the Uruguayan already playing more minutes this season than he did in the entirety of the last campaign.
"Last year he couldn't play [during the first months of the season due to the Fifa ban], so it's normal he has played more minutes this season. Each player has their own physical profile and we have it under control. Don't worry, because I always do things that benefit the team. We will not run risks," the Barcelona boss added.
Nevertheless, Luis Enrique may make some changes to the team that won in Sevilla on Sunday, as they will face another La Liga game, against Eibar, at the weekend.
"Being a coach is about constantly making decisions. Until an hour before the game, nobody knows who will play," he said. "We're used to having a match every three days and it's been going well. But to have a calm week every now and again is good. Fatigue is normal and common, similar to last season, and I'm looking forward to the key games that will decide the titles."
Luis Enirque also played down suggestions that Barcelona have already won La Liga, despite them being five points above Atletico Madrid with a game in hand. He urged his team to take nothing for granted against Rayo, who are 16th in the table.
"With the system of three points for a win, any slip-up is very costly. Atletico Madrid aren't faltering; they keep improving and there's still a title race. We've never said otherwise at any point," the boss said.
"You can never be relaxed against Rayo. It will be an uncomfortable game. What I like about Rayo is their love to attack and their desire to complicate life for their opponent as close as possible to the area. I love Paco Jémez's philosophy. What Paco Jémez is doing deserves a lot of credit. Rayo continue to be a difficult team to play, and it has been four seasons that they have been playing good football in the top division, which is very commendable."