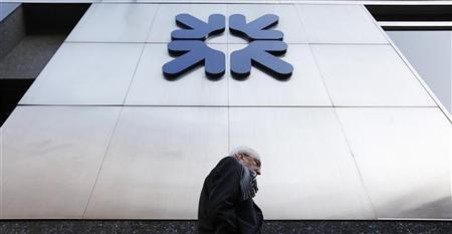 RBoS Shareholders Action Group will be launching a £3.5bn to £4bn lawsuit against Royal Bank of Scotland Group Plc and three ex-senior executives, Fred Goodwin, Tom McKillop and Jonny Cameron by the end of this year, as it nears completion of its liability fundraising.
Sources close to the action group, which comprises 10,000 stockholders and around 80 institutions, told IBTimes UK exclusively that the consortium has nearly completed up to £20m worth of litigation liability cover, which is needed in order to prove that the plantiffs can pay for legal costs should it lose a case.
"Everything hangs on the funding and I hear that they are close to completing it. Once liability cover is completed, the group should be able to press on with filing a lawsuit against the banks and executives which is estimated to be in a month or so," say sources.
It has been previously reported that the group was looking to sue for £3bn but without a timeframe, however sources say this figure is actually lower than the total estimates.
The £4bn lawsuit could mean a quarter of total £12bn raised in the RBS rights issue in 2008. If the group does raise £20m, it will also be the largest amount of liability cover raised for a lawsuit in the UK.
Shareholders have lost over 90 percent of their money since RBS launched its rights issue.
The RBoS Shareholders Action Group is claiming its members bought the shares under false pretences as the bank did not fully disclose how frail the bank's health was in its prospectus, which then led to the government bailing it out.
The government now owns 83 percent of RBS.
On 4 September a US District Court Judge Deborah A. Batts dismissed a class action suit brought by US investors who bought preferred shares issued by RBS in 2005 and had alleged that the information used to market them were "materially false and misleading because they did not disclose the extent of RBS's subprime exposure, misrepresented the veracity of RBS internal controls, and provided an inaccurate assessment of RBS's acquisition of Dutch banking giant ABN AMRO" according to papers filed with the Southern District of New York court in Manhattan.
Judge Batts said the suit was "backward-looking" and that There is "no obligation for an issuer to identify specifically every type of asset or liability it possesses, so long as its disclosures are 'broad enough to cover' all instruments that are in fact relevant to the value of the issuer's securities."
Representatives at RBoS Shareholders Action Group declined to comment on the details of this report.
However it did say that"the US proceedings brought against RBS in respect of Preferred Shares offered to the open Market has no bearing on our case which relates specifically to the misleading information published in the Rights Issue Prospectus."
RBS declined to comment on specific cases but it told IBTimes UK that in relation to potential shareholder litigation "the Group considers that it has substantial and credible legal and factual defences to the remaining and prospective claims and will defend itself vigorously."