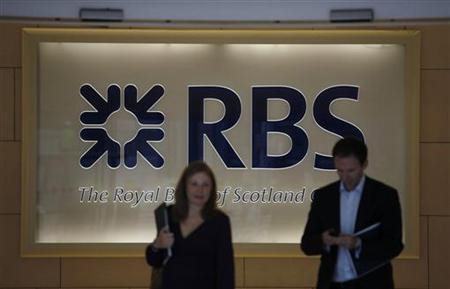 Shares in RBS were up in morning trading on the FTSE 100 after the group reported a return to profit in the first half of 2010.
The group said that its pre-tax profit in the first six months of the year was £1.1 billion, well above the £120 million expected and a significant improvement on the loss of £1.0 billion reported in the same period last year.
Income in the half year dropped slightly from £17.2 billion last year to £15.9 billion, while the group said that its impairment losses dropped only slightly from £2.17 billion in the first half of last year to £2.07 billion this year.
Stephen Hester, Group Chief Executive of RBS, said, "RBS second quarter results show that the Bank remains on track to meet the far-reaching goals of our five year restructuring plan which commenced last year. We are making good progress with disposals and overall business restructuring. Our customer base is solid and I believe that the future potential of RBS for all its constituencies becomes increasingly visible.
"RBS's Retail and Commercial businesses make up nearly 70% of our underlying Core banking revenues. They continue to recover and respond to our restructuring efforts. This is welcome and key for our future growth. Progress will naturally be sensitive to interest rates and credit conditions normalising over time.
"Global Banking & Markets had a more difficult quarter, reflecting negative capital markets sentiment, increased volatility and a resulting reduction in client activity. These conditions have not yet abated. Earnings volatility in this business line is a fact of life and on an underlying basis the business has been resilient, making an important contribution to RBS and our customers."
Richard Hunter, Head of UK Equities at Hargreaves Lansdown Stockbrokers, commented, "RBS has brought the half year reporting season to a close in quietly confident fashion.
"The themes it has described are similar to those of its competitors this week, most notably a marked improvement in the impairment situation, coupled with a more challenging environment in investment banking. Nonetheless, the company has crept back into the black, further asset disposals should help focus future strategy and the new management team are well aware of the length of time any potential recovery may take. Whilst the share price remains above the theoretical break even level, the major government stake will continue to overhang any further price appreciation.
"Admittedly from a low base, the shares have gained 61% over the last six months, as against a 6% improvement for the wider FTSE100. However, despite the improvement in RBS' fortune, the conclusion is perhaps unsurprising and twofold. Firstly, the general market view is that holders of the stock should continue to do so and, secondly, that investors looking to enter the UK banking sector can find better prospects elsewhere in terms of both income and capital growth."
By 08:30 shares in RBS were up 2.12 per cent on the FTSE 100 to 53.10 pence per share.