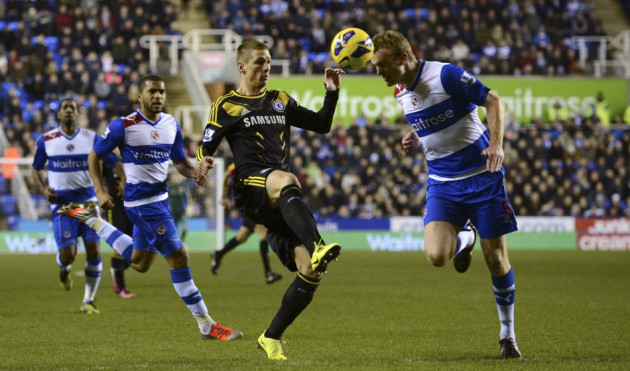 Reading defender Alex Pearce has indicated he would be happy to extend his stay at Reading despite Liverpool and Newcastle both being reportedly interested in his signature.
The Republic of Ireland defender was relegated with the Royals at the end of last season but seemingly has no shortage of clubs considering offering him an immediate route back into the Premier League.
Pearce will be free to talk to other clubs next month when his deal with the Berkshire club expires but he maintains he would like to stay at the Madejski Stadium if the club are willing to offer him a deal that ensures the centre half feels valued.
"I've always maintained that I want to stay at Reading and I've always told people at the club that I want to stay at Reading and that is the case," Pearce told Sky Sports News.
"But I also want to feel valued and I'm not asking to be the top earner at the club, nowhere near it.
"I'm just asking to be on par with some of the others and it's up to the people at the club to make me feel valued in the case because that's all I want to be, is be made to feel valued.
"They (the contract talks) are still on going and hopefully we can get a deal reached by Reading."
Pearce has been linked with a move to Anfield since the latter stages of last season when it appeared certain he would be leaving Reading.
Given Jamie Carragher's retirement and uncertainty surrounding the futures of Martin Skrtel and Sebastian Coates, Brendan Rodgers is still in need of a few bodies in defence, despite the acquisition of Kolo Toure. A move for Pearce could represent another cost effective solution.
Meanwhile Newcastle were credited with interest after they were warned off making a bid for West Ham United's James Tomkins.
Despite his continued allegiance with Reading, Pearce admits he could be tempted by the chance to test himself in the top flight again.
"I think playing Premier League football is the main aim for me right now, I think everyone wants to play Premier League football.
"But obviously, if a deal can be reached at Reading, then I would be more than happy to sign it and move forward with the club."
Meanwhile, the Royals look to be on the brink of securing a deal for former Real Madrid winger Royston Drenthe. The Dutchman, who spent time with Everton on loan during the 2011/12 season has been released by Russian club Alania Vladikavkaz, and could finalise the move tonight, according to his agent.
"He is going to England. He is going to sign the contract and hopefully it will be finished tonight," the 26-year-old's agent Fabian Veldwijk said.