Real Jurassic Park: New Zealand MP Wants to Raise Extinct 12-Foot 'Moa' Bird From the Dead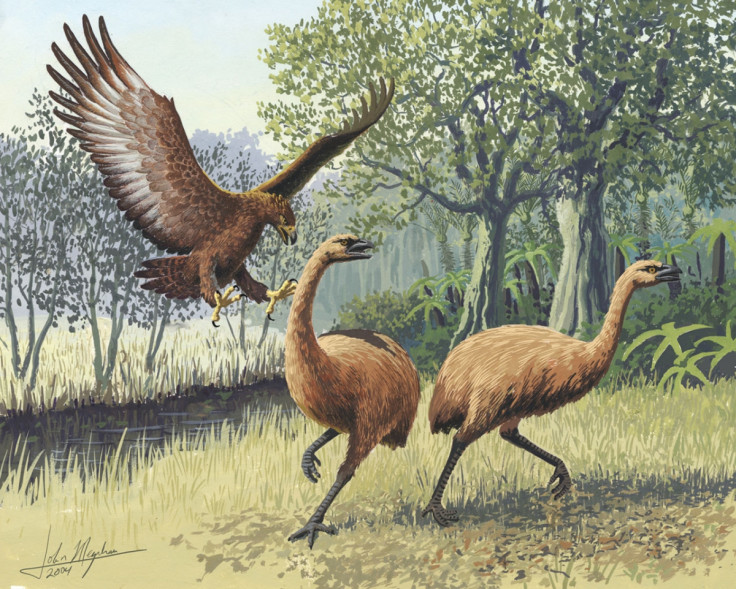 A New Zealand politician has pushed the idea that moa, a giant, flightless bird which became extinct around 600 years ago, may one day roam in the Wellington region of the country.
Trevor Mallard, Labour's Hutt South MP, presented his theory to around 30 business people at meeting in Wainuiomata.
While admitting it sounded "a bit Jurassic Park", Mallard said scientists had been making progress on techniques to use recovered DNA from extinct animals to construct new life. He suggested that Moa could return to the bush of Rimutaka Forest Park.
"It would certainly give us international focus and, frankly, I can't think of a better place. Those valleys [behind Wainuiomata] are accessible without helicopter, with a one-hour walk," he said.
Mallard added that he was aware that he had opened himself to "bird jokes and extinction jokes" but people once mocked those who said the kiwi would return to Wainuiomata.
A population of North Island Brown Kiwi has been established in the northern part of the Rimutaka Forest Park, a protected area near Wellington.
Mallard continues to campaign for the return of the bird, despite leader David Cuncliffe's comment that "the moa is not a goer".
"The moa will be a goer but we are talking 50 to 100 years out. Of course it's not official Labour Party policy," he responded.
"I only want the small moa in Wainuiomata. I don't want those that are 240kg and 3.5m tall. I'd like ones that I could pat on the head," he said.
The moa were nine species of flightless birds endemic to New Zealand. The largest species, Dinornis robustus and Dinornis novaezelandiae, reached around 12 feet in height.
Moa were the dominant herbivores in the forests of New Zealand, as well as the country's shrubland and subalpine ecosystems for thousands of years. It is understood that all species of moa died out by 1400 CE, due to overhunting by the Māori and habitat decline.
Morten Allentoft, an evolutionary biologist at the University of Copenhagen, told Science that the Polynesians who first settled in New Zealand ate moas of all ages, as well as their eggs.
"You see heaps and heaps of the birds' bones in archaeological sites," Allentoft said. "If you hunt animals at all their life stages, they will never have a chance."
© Copyright IBTimes 2023. All rights reserved.