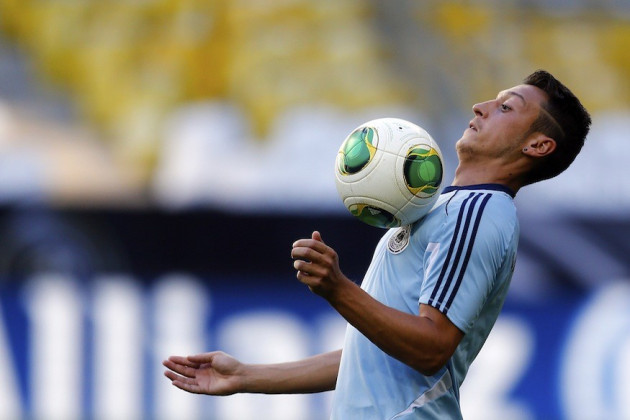 Mesut Ozil has laughed off suggestions that he was unprofessional at Real Madrid after the club president reportedly accused the midfielder of being obsessed with women and partying.
Ozil, who scored 15 goals for club and country last season, shocked the footballing world with his move to Arsenal on deadline day for a fee worth around €50m.
Germany coach Joachim Low called the move 'incomprehensible', questioning what Madrid were thinking to sanction the move of one of their best players. But Madrid President Florentino Perez has since told Spanish website ABC.es that Ozil would spend more time partying than training and was unprofessional in his time at the Spanish capital.
Bild claims that the quotes coming from the website were simply reports and not fact, and Ozil himself has insisted that those who know him best would disagree with the so called comments from Perez.
After Germany defeated Faroe Islands 3-0 last night, edging closer to qualification for the World Cup, Ozil said: "The people who know me know how professional I am! All I need to say."
Perez has been criticised for allowing Ozil to leave the club and he may well have made the comments in the hopes of saving face.
It would appear that the club allowed the Germany international to go to Arsenal as a result of recouping funds for the record-breaking purchase of Gareth Bale. And with multiple players, including Cristiano Ronaldo, expressing their anger over the sale, Florentino would be keen to paint Ozil as the evil protagonist in the narrative.