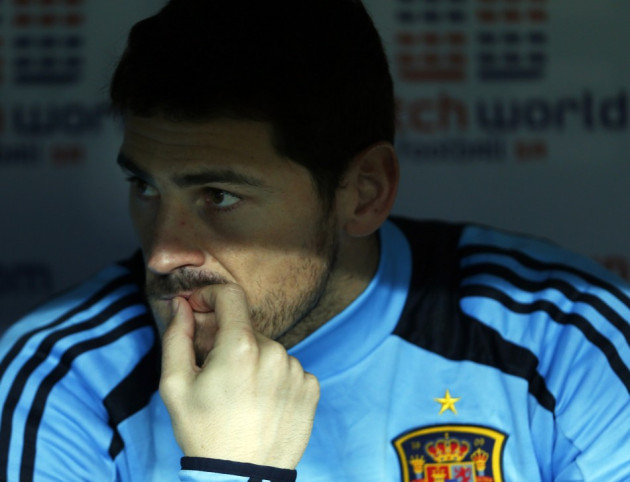 Real Madrid goalkeeper Iker Casillas has alerted a number of European giants including Arsenal after admitting he will consider leaving the Bernabeu during the January transfer window should his current situation not change.
After being replaced by Diego Lopez as Real's chief custodian last January, the Spain captain has failed to earn back a starting berth under Carlo Ancelotti this season, with Diego Lopez still the club's number one choice in goal.
Casillas, who has spent his entire career at Real Madrid, has managed just one full appearance this season in a Champions League victory over European minnows Copenhagen and looks unlikely to usurp his teammate Lopez any time soon.
Having been held in such high regard by Real, the prospect of the 32-year-old leaving the Spanish giants would have been previously dismissed as an impossibility. But given his deteriorating relationship with his boyhood club, Casillas admits he will have to consider his options if things do not change.
"If a player isn't in the action he starts thinking about taking a decision," Casillas told Spanish daily AS. "I'm a human and I'm a footballer. I haven't played for nine months now and it's the same for me. I'm not a robot.
"Of course I want to stay here and win more titles with Real Madrid. I've been here since I was little, but there will come a day in which I have to take a decision. As of now my decision is to stay and fight, to struggle and play every day.
"If I wasn't sure about it I would have told the president I wanted to leave in September and that no matter what at Christmas. But I decided that I want to be part of this squad for a long time yet... that said, if in three months things haven't changed and you ask me the same question, well maybe I'll be thinking about leaving."
Although Casillas' position as Spain's undisputed number one choice has held firm during his exile from Real's starting XI, the shot stopper will be even more keen to ensure he is getting regular football as La Roja aim to defend their World Cup crown next summer in Brazil.
Having amassed over 600 appearances for Los Blancos, the goal keeper made just his first start in 238 days for the club in a Champions League game against Galatasaray in September, but was forced off injured after 14 minutes.
Having enforced their ability to attract genuine world class names to the Emirates Stadium through the signing of Mesut Ozil, Arsenal have given every indication they will attempt to add to their squad in January. A goalkeeper of Casillas' stature would certainly fit into Arsenal's three pronged directive for success, as outlined by Wenger at today's AGM meeting.