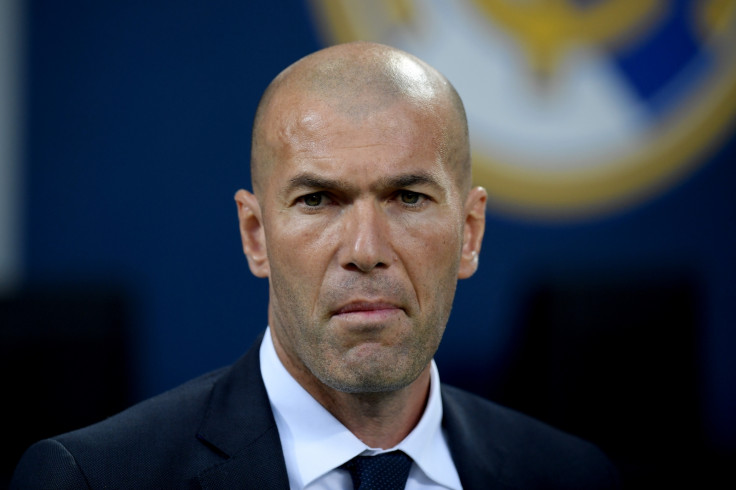 Real Madrid manager Zinedine Zidane has confirmed Keylor Navas and Fabio Coentrao are set to return to action ahead of their Champions League group stage clash against Borussia Dortmund following a long-term on the side-lines.
Meanwhile, the French boss has played down claims of a rift with Cristiano Ronaldo after the Portuguese international launched a foul-mouthed rant after being replaced during the weekend draw at Las Palmas.
Keylor Navas is yet to play a game since the Champions League victory final over Atletico Madrid on May. The Real Madrid number underwent an Achilles tendon operation earlier in June and was subsequently ruled out of Copa America with his national team. He was expected to be back on time for the beginning of the new season but Zidane opted to use Kiko Casilla instead during the opening games of the season to avoid any setback.
But the Costa Rican international already made the bench during the weekend trip against Las Palmas and could be set to regain the number one role in the Champions League encounter with Dortmund.
"You'll find out in the game, I can't answer that one," Zidane said when asked who he will put between the sticks on Tuesday night. "I speak to them from time to time and they know my thoughts on it. I can't tell you what I say to them. The important thing is that they're both ready and that I can call on them and Rubén too. I have to make the decision and they're relaxed about it".
Coentrão is also yet to play a game this term, after he suffered a serious injury while on loan at Monaco last season. However, the Portuguese has been training with Real Madrid during the last weeks and Zidane said that he is now set to play "90 minutes."
Zidane welcomed the news as he expects Coentrão to help him cope with the absence of Marcelo after the Brazilian left-back suffered a muscle strain last week, which is expected to have him on the sidelines until after the forthcoming international break.
"In place of Marcelo we've got Coentrão who's in good shape and is part of the squad. Nacho has also filled in there. Keylor and Coentrão are ready to play 90 minutes," the boss said.
However, the Frenchman is struggling to find a replacement for Casemiro. Yet, it doesn't look only a coincidence that Real Madrid have suffered two successive disappointing draws with Villarreal and Las Palmas since the Brazilian got injured. Zidane is deploying Toni Kroos in the position but admits he has no a real specialist to replace a "key" star who is expected to be out of action for up to two months.
"We had Marcos Llorente at the start of the season and he was someone who could have come in for Casemiro. However, we made a decision that it'd be good for him to go out and get 30-40 games under his belt this season," Zidane said. "Casemiro is a key player. We don't have any control over injuries. I hope that he recovers soon. We've got good players to get through this though. In his position perhaps we haven't, but we've got other types of players in there".
Zidane also defended his choice to replace Ronaldo during the draw against Las Palmas despite the Portuguese international appeared to disagreed, been caught on camera launching a foul-mouthed rant saying: "Why me? I do everything to make it 2-1...for f**k's sake," Ronaldo while leaving the pitch, while on the bench he added: "F**k" [in Portuguese], Mother f****r (in Spanish) There's 20 minutes left, 20 minutes!"
Zidane played down the incident in his press conference while insisting the decision was the best for every party, as he needed Ronaldo fresh to face Dortmund.
"Everything's as normal. He's not the only one who gets angry. Whenever they are brought off, all of the players may well be angry. Our focus is on tomorrow's game. I took the decision in the interest of the player and that's that," Zidane said. "The fact that all of this is receiving more attention than the game itself is just the way things are. We have to deal with that and we're relaxed about it. I'm not daft and he's intelligent. We're both here for the same thing and not to talk about other stuff".