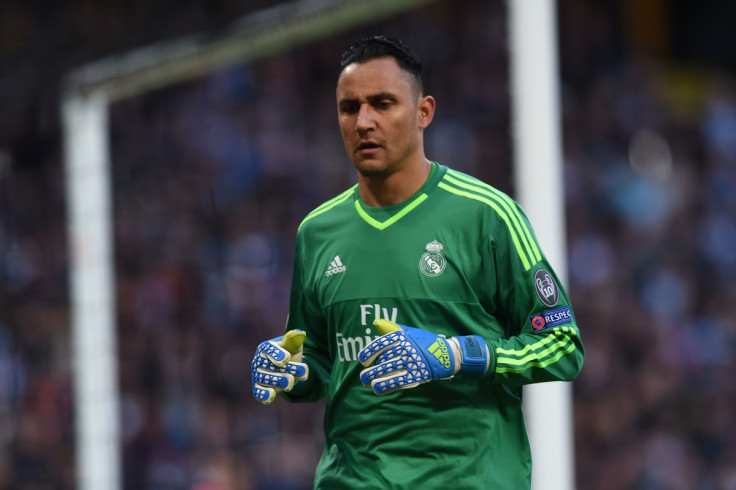 Real Madrid have revealed that their current number one goalkeeper Keylor Navas needs to undergo surgery on his left heel, adding a new chapter to the ongoing transfer saga surrounding Manchester United star David de Gea. The Spanish giants have not set a timeframe for the recovery of the Costa Rica international, but initial reports suggest he may be ready to return to action in time for the pre-season.
Navas has suffered ongoing niggles in his Achilles tendon since joining Los Blancos in the summer of 2014, following a standout World Cup campaign. The 29-year-old missed some games during the 2015-16 season, including one last month against Valencia, but was able to play in the Champions League final against Atletico Madrid, where his side won their 11th title.
However, just days later Real Madrid revealed the Costa Rican would miss the Copa America after being "diagnosed with an Achilles tendinopathy in his left foot".
Real Madrid have been monitoring his recovery in the interim and have now revealed that, following a visit to Dutch specialist Jan van Dijk, the keeper will need to undergo surgery to address the issue.
"After the tests carried out today on our player, Keylor Navas, in Amsterdam, the doctor Jan van Dijk under the supervision of the Real Madrid Sanitas medical services has taken the decision to carry out a minimally invasive endoscopy on the left heel. The operation will take place on 9 June in Madrid performed by doctors Van Dijk, Pedro Luis Ripoll and Mariano de Prado, under the supervision of the Real Madrid Sanitas medical services," the club confirmed.
With Real Madrid not giving a predicted recovery date, it remains to be seen if the injury will cause a change to the club's summer transfer plans amid on/off links with De Gea.
The Manchester United keeper recently appeared to close the door on any possible move to the Santiago Bernabeu, revealing he was looking forward to working under Jose Mourinho at Old Trafford.
"People talk a lot and they know little," De Gea said to Marca when asked about leaving United. "I know how all this works, but what I think is disrespectful is when people start making out that it's something I have said. I've got three more years on my contract with United and have the desire to win more titles here."
However, Florentino Pérez was more coy when asked about his interest in the player last week, while AS later the club president would like to sign the player despite Zinedine Zidane preferring to stick with Navas. Real Madrid only have until 15 June to activate the €50m (£39.3m, $56.7m) to bring him to La Liga, and with less than 10 days to go it seems that De Gea could stay at Old Trafford for one more campaign.