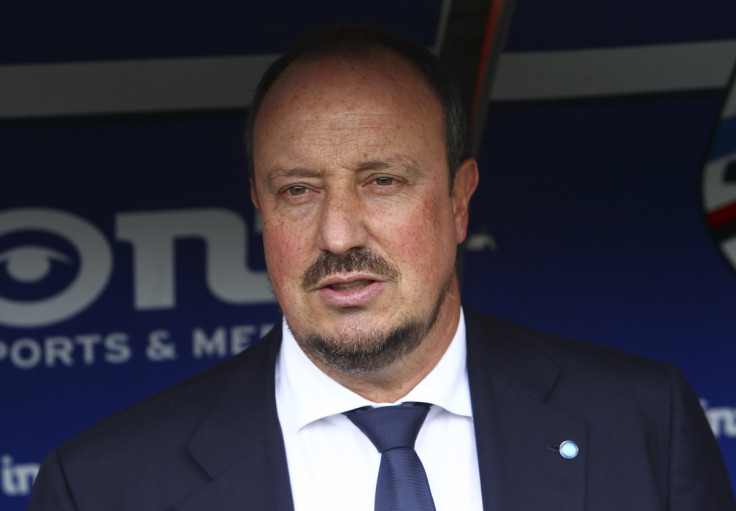 Real Madrid manager Rafa Benitez has refused to respond to Jose Mourinho's jibes about his wife, in a press conference that also saw him open the door to potential new signings at the Santiago Bernabeu, including Manchester United's David de Gea.
After Benitez's wife, Montserrat Seara, told Spanish newspaper La Region that her husband "always tidies up Mourinho's mess", alluding to Benitez managing Inter Milan, Chelsea and Real Madrid after 'The Special One''s spells, the Chelsea boss shot back: "The lady is confused."
"I'm not laughing. Her husband went to Chelsea to replace Roberto Di Matteo and he went to Real Madrid to replace Carlo Ancelotti. The only club where her husband replaced me was at Inter Milan, where in six months he destroyed the best team in Europe. To speak about me... I think the lady needs to occupy her time and if she takes care of her husband's diet she will have less time to speak about me."
Benitez has tried to cool the feud down by refusing to respond to Mourinho's comments after they were put to him at a press conference.
"I am Real Madrid's coach, I love football, I understand football and for that reason I only talk about football," the Real Madrid manager said, as quoted by AS.
"We are here to prepare for the Milan game and a tour which so far, has been going well. I'd like to talk about the present day game and that means Real Madrid or the future of Madrid"
Benitez was less cryptic when asked about the ongoing speculation regarding De Gea, admitting that despite his current squad strength he is still open to improving it further.
"I have an amazing team, a team I am working with every day. My objective is to extract the very best performance for them and if I can improve the team, then I will try to do that. I am focused on trying to get the players to improve day by day."
Real Madrid recently signed Kiko Casilla from Espanyol to fill the gap left by the departure of Iker Casillas to Porto, but is common knowledge that the club are interested in the United goalie with the desire of making him their number one ahead of the new season.
Indeed, Marca reported on 29 July the La Liga giants are ready to part ways with Costa Rica international Keylor Navas to make room for the Spanish keeper.