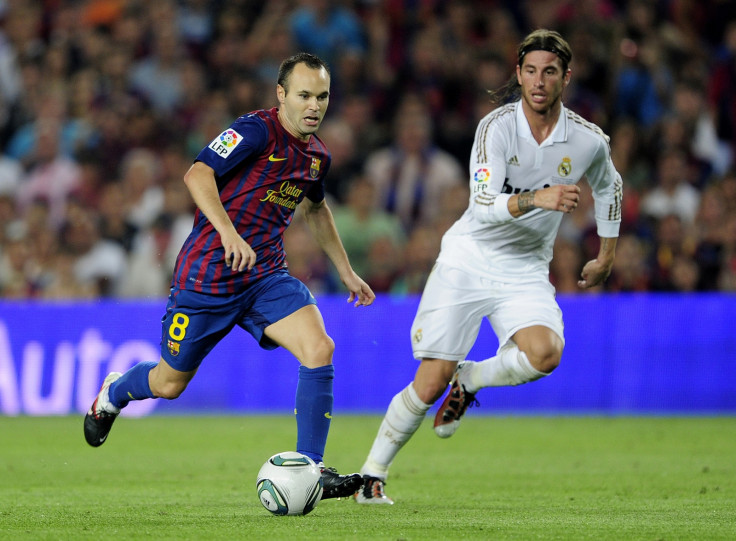 Manchester United have been told to forget signing Real Madrid and Spain defender Sergio Ramos after fellow countryman Andres Iniesta said the World Cup winner was already at a "great club".
The Daily Telegraph claims United have issued Real an ultimatum over Ramos, with reports claiming Louis van Gaal's side will refuse to sell David de Gea if they part ways with Ramos. Sky Sports, meanwhile, understands United have submitted a £28.6m bid for the centre-back.
Ramos has emerged as one of the central narratives of the early weeks of the summer transfer window, but has denied he is negotiating with United or any other rival European side.
And Iniesta, the Barcelona playmaker, insists Real will not allow Ramos to leave the Bernabeu for United or another club such is his importance to Rafael Benitez.
"I've always said that Ramos is one of the best centre-backs in the world," Iniesta told reporters according to Goal.com. "He's already in a great team and to be honest, I can't see Madrid letting him leave."
Though Ramos has been advised against joining United, former Real president Ramon Calderon says the 29-year-old will only leave the club for Old Trafford
"I know Sergio has told the general manager to listen to offers they get from Manchester United. He only wants to go to United," Calderon said according to the BBC Sport.
"Things are in a very bad situation. As time has gone on, things have not only not improved, they have got worse.
"Now it is not a question of money. It is a lack of affection the player is feeling from Real Madrid."
United have made just one signing this summer in the form of Netherlands international Memphis Depay, with much of van Gaal's business set to be conducted during the closing weeks of the window.
Last summer, Marcos Rojo, Angel di Maria and Radamel Falcao joined in the final 10 days of the window and that contributed to the club winning just one of their first five league matches.