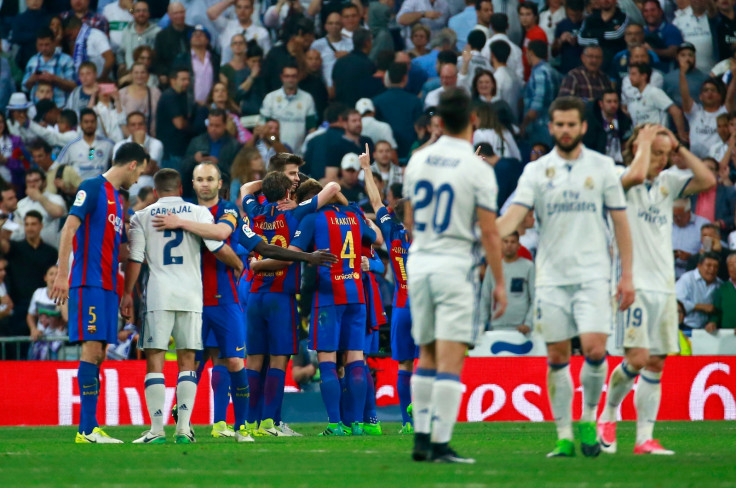 Barcelona need to beat Eibar on the last day of the season and rely on Malaga doing them a major favour if they are to retain La Liga – as Real Madrid will lift the title if they get at least a point at the Rosaleda Stadium.
Luis Enrique's men have won six on the trot, and will expect to continue their good run against the Basque outfit. However, there are more question marks over what the outcome will be when Malaga face Real Madrid at home on 21 May.
IBTimes UK takes a look at some reasons why the Catalans should be optimistic about a third consecutive title – and some that suggest their dream is about to be crushed.
Why Malaga won't beat Real Madrid
1. Real Madrid and Cristiano Ronaldo are on form
Barcelona secured an impressive 3-2 victory in El Clasico on 23 April to move top of the table, thanks to their superior head-to-head record with Real Madrid.
However, Real have since won five games in a row, including that all-important game in hand with Celta Vigo, to arrive at Matchday 38 with a three-point cushion over the Catalans. In that time they've scored 20 goals and conceded just five.
Talisman Cristiano Ronaldo has also hit a purple patch of form, netting 13 goals in his last eight appearances.
2. The Isco clause
Barcelona's hopes took a further blow earlier this week when it was revealed Real Madrid will pay Malaga €1m (£860.000) if they win the title.
No, Luciano Moggi hasn't moved to Spain's capital. Instead it's all down to a clause from the deal that brought Isco to the Santiago Bernabeu from Malaga in 2013.
Real Madrid agreed a fee of €27m plus €3m in add-ons for the Spaniard. It is now understood that those add-ons include €1m if Real Madrid win La Liga – which they will do if they take all three points on Sunday.
3. Real Madrid fan in Malaga's dugout
Barcelona manager Luis Enrique had to laugh recently when asked if Barcelona could rely on Malaga beating Real Madrid in the final game of the season. "If my grandmother had wheels, she would be a bicycle," the boss replied.
Luis Enrique had a good reason to be pessimistic, as Malaga manager Michel is a bigger Real Madrid fan than Zinedine Zidane himself – and has previously hinted he wants Los Blancos to clinch the title.
Michel joined Real Madrid's academy at the age of 13 in 1981 and stayed at the Santiago Bernabeu until 1996, making 404 appearances for the first team.
4. The will of Allah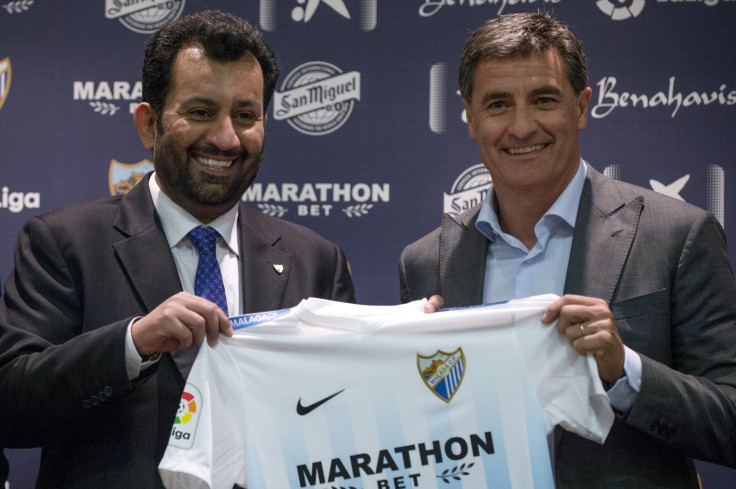 Malaga president Abdullah Al-Thani caused controversy last month after attacking Catalonian fans on Twitter.
"With the help of Allah we'll beat them on the pitch, but the scum of Catalonia will not smell the championship after telling lies about coach Michel," wrote Al-Thani in Arabic.
The president later said his comments were directed solely to journalists from Barcelona who have questioned Michel's professionalism. Regardless, Barcelona reported Al-Thani to Spain's sports authorities.
"FC Barcelona expresses its rejection and indignation at the contents of a tweet published by the president of Malaga CF, Abdullah Al-Thani, with comments which violate the principles of fair play, ethics and legality that should govern sports competition," Barcelona said in a statement. "For this reason, the club will report this case to the anti-violence committee of the national sports council, and will refer the matter to the competition committee of the Royal Spanish Football Federation and the La Liga integrity department."
Why Malaga could beat Real Madrid
1. Malaga on a run
Malaga have had three different managers so far this season, but have picked up since the appointment of Michel on 7 March.
The Anchovies beat Barcelona 2-0 last month at home and have won six of their last eight games, easily avoiding relegation.
2. Sandro's dreams
Sandro left Barcelona last summer as a free agent after being deemed surplus to requirements at the club.
However, the 21-year-old has since proven the doubters wrong by being one of the standout signings of the season, scoring 14 goals in 29 La Liga appearances – including seven in his last eight.
The Canary Islander still holds out hope of a return to the Nou Camp, and has a perfect chance to secure himself a place in the club's history if he helps Malaga beat Real Madrid.
"Hopefully [I can score against Real Madrid]," Sandro said to Gol ahead of the game. "If I score it will be a dream day because I owe Barcelona everything. If I can score and hand the title to Barcelona... I hope I can do it."
3. It's all about the money
Malaga may earn €1m if Real Madrid win the title, but a loss will also see them throw some money away.
Los Boquerones will pocket €600,000 for finishing 11th in the table due to the broadcasting revenue split, which depends on your final position.
A loss could see them drop as far as 13th – potentially seeing them earn less than Valencia and Celta Vigo who can overtake them with wins against Villarreal and Real Sociedad respectively.
4. Memories from Tenerife
Barcelona know what it's like to beat Real Madrid for the title on the final day of the season thanks to their white-clad rivals choking – they've done it twice in living memory.
In both 1991-92 and 1992-93, Real Madrid visited Tenerife for the last game of the season, and both times they only needed a win to lift La Liga.
In an eerie parallel with Michel, Tenerife were managed by a committed Real Madrid fan in the shape of Jorge Valdano. The Canary Islanders twice shocked the world, beating Los Blancos 3-2 and 2-0 and handing Johan Cruyff's men the titles at the death.