Former editor of the Sun and News of The World giving evidence on relationship with politicians
PM would sign off texts "LOL", meaning "Lots of Love"
Received "keep your head up" text from David Cameron on resignation.
Had three dinners with Tony Blair "on my own"
Was "instrumental" in timing of change in Sun's allegiance to Conservatives
Had "extraordinarily aggressive" conversation with Gordon Brown over Sun coverage
Would not have run cystic fibrosis story without Gordon Brown's blessing
Claims Rupert Murdoch "likes X-Factor"
News Corp Email Claims Jeremy hunt asked for advice on phone hacking
15:57: Brooks has finished giving evidence on a day packed with information titbits, some trivial, some more revealing.
David Cameron is sure to rue the revelation about his text habits (LOL) and bookies can start taking bets as to what sort of joke Ed Miliband will make about it in the commons.
The day's questioning of Brooks was in many ways similar to that of Coulson - a mixture of insights and amnesia. Although starting with smiles and a relaxed atmosphere, there was clear irritation on both sides of the inquiry, as Jay grew annoyed with a lack of direct questions and Brooks criticised a focus on trivial tabloid matters - an irony not lost on Jay.
The depths of the connections that Brooks had with politicians and the subsequent mercurial partnership formed with the government of the day proved to add yet more complexity to Leveson's overriding question as to whether the tail wags the dog when it comes to media relations.
15:53: Leveson explains his concern that press and politicians can be able to work together and communicate , but display sufficient transparency so that "everybody is satisfied".
Brooks replies: "That's correct in term so business and commercial interests. From a journalist's perspective, you are not trying to get to see a politician for your own personal or your company's personal interests - you are just trying to get a good story."
Leveson counters with the example of the BskyB bid, or those against it, which is an example of where "everything becomes a bit fuzzy".
15:48: Brooks repeats that she has "never compromised her position as a journalist" and said the same is true of politcians she knows.
She suggests a focus on current laws and the ministerial code, before any changes in the law with relation to the press and politicians.
15:43: Brooks accuses Jay of putting "a lot of gossipy items to her" with relation to her private life.
"The sort of gossip you would read in the News of the World or the Sun?" he replies.
Brooks said: "Yes but we are not in a tabloid newsroom are we? We are in an inquiry".
She went on to claim that a lot of the treatment she receives, in the way of gossip, is due to her gender, as she would not get the same attention if she was a "grumpy old man on Fleet Street".
She admits it would be the "height of hypocrisy" for her to complain in relation to privacy, but again criticised the "trivial" issues she has been questioned on.
15:38: Brooks admits some regrets with regard to the campaign, such as the publishing of a list of convicted sex offenders.
"I felt that we had made some mistakes by just going on an appearance on the sex offender's act, which wasn't necessarily the right criteria."
She said she had no regret of the campaign's "mechanics".
15:34: Brooks said "each editor's judgement is their own" with regard to exposing the weakness of public figures.
The conversation moves on to the News of the World's "Sarah's law" campaign to identify sex offenders, which prompted the chief constable to claim it was "grossly irresponsible".
She said she did not think "anybody could predict" some of the vigilante acts that followed.
Jay said the campaign was "not just bold, but sensationalised" and spoke of the News of the World's "crude objectives.
Brooks said that he was reflecting the opinion of the Guardian, which she "will not agree with".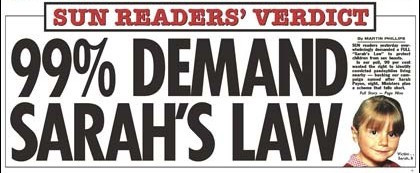 15:26: Jay asks if editors, subject only to review by the PCC, have full discretion as to what stories are deemed as the public good.
Brooks disagreres, claiming: "It's acombination of relating to the readers, reflecting the readers but also putting issues in front of the readers for their reactions.
"I think sole reponsibility is not correct."
She agrees that "ultimately everything published in the newspapers is the editor's repsonsibility".
That comment will have pricked up a few ears in the Culture, media and sport sub-committee.
15:10: The conversation has moved onto Baby P and the Sun's campaign to see people lose their jobs, especially former head of Haringey children's services Sharon Shoesmith.
Jay asks if Brooks spoke to Ed Balls and threatened to "turn the thing on him" if Sharon Shoesmith was not sacked.
Brooks denies this. She said: "I didn't tell him to fire Sharon Shoesmith. We had launched a campaign because the government was refusiong to do anything.
"I would've spoken to anybody to try and get justice for Baby P any way."
Jay argues that Balls was the decision maker. Brooks said Balls was under "no illusion that was the point of our campaign."
15:01: Brooks: "If the Browns had asked me not to run [the CF story] I wouldn't have run it.
"Not only did they give me permission to run it, it's the only way we would've put it in the public domain."
14:58: Jay will not be deterred, asking about the source and riling Brooks, who does not want to identify her source. She admits he got his information from a third party.
Leveson asks if the original source had a duty opf confidence over the medical information, to which she replies : "No I don't believe so".
She said she understood that the source was paid with a charity donation.
14:48: Jay is talking about the Sun's defence of a 2006 story on Gordon Brown's son suffering from cystic fibrosis, which led to brown accusing the paper of hacking medical records.
Jay presses Brooks on the paper;'s 2011 defence that the information had not come from hacking, but from a father whose own son had the disease.
Brooks said: "He had got it, should I say, through a very small charity aspect and he got it through a slight involvement through there."
When Jay pushed further, she said: "I'm not going to give tell you any more because I feel it couls lead to the identification of a source.
"The main point is that he accused the paper of having hacking his son's medical record and that wasn't true".
Leveson interjected and said: "it wasn't 'accurate'. But actually that's important."
He went on to ask why the paper chose to accuse Brown of accusations that were both "false and a smear", which shows that the press mindset is that "attack is the best form of defence", rather than just saying "he's got it wrong".
Brooks said she understood the point, but said that Brown's "attacks" through the media, which had not been raised with News International, that the Sun felt "it was a smear, that he was doing it four years later for a particular purpose."
14:44: Brooks said she "may have" discussed the phone hacking story raised by the Guardian with then police chief John Yates.
She said; "I'm pretty sure I attended the police braver awards every year and [Yates] was always there. I may have spoken to him but I can't recall a specific conversation."
14:34: Brooks denies being a "go between in an increasingly fraught relationship between the Murdochs" as she was described by Vanity Fair.
"No. They are just like any family. They have their own dynamics and they could talk to each other," she said.
14:31: Jay reads extracts from an email sent to Brooks from Michel on June 27 explaining that Jeremy Hunt was looking into phone hacking and had asked Michel to "advise him and on his and number 10's position".
He asked Brooks whether this was surprising and she replied: "I think the email speaks for itself."
14:21: Jay is now talking about an email from Brooks to Michel, describing George Osborne's response to Ofcom's issues letter as "total bafflement".
Brooks admitted that she discussed the issues letter with Osborne during a letter, although stressed it was in passing.
Jay won't let the issue go, asking who initiated the conversation and whether she thought it was appropriate.
Brooks complained she was "being forced to guess" who initiated the conversation.
"I was reflecting the opposing to those that he had heard from pretty much every member of the anti sky bid on many occasions. I don't think a three minute conversation an that of a meal was inappropriate."
Jay responded: "If you can remember how long the meal was surely you can remember how long it was". He went on ti hint that the nature of the email was suifficient to reveal Osborne's position with regard to the bid.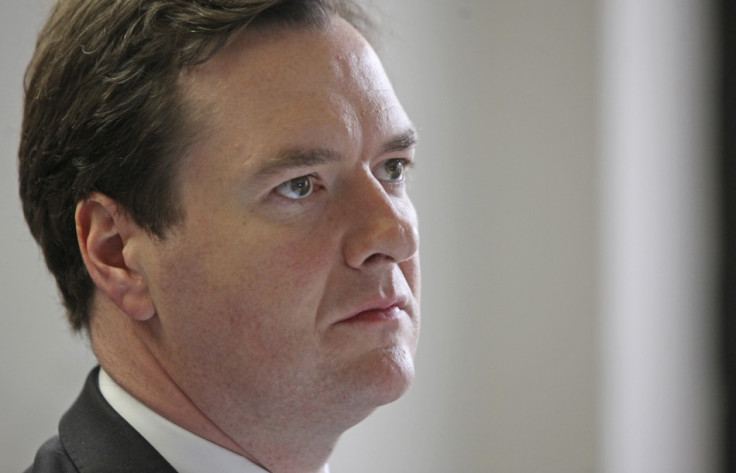 14:12: David Cameron "always made it very clear that he had set up a quasi-judicial system" with regard to the bid, according to Brooks.
"I think he had been lobbied by a lot of people...I think it would be fair that he could see we wanted to presnet our view in relation to what we were getting against the bid".
She said the Geoge Osborne never showed a preference.
Speaking about the emails released between the office of Jeremy Hunt and News Corp public affairs head Frederic Michel, Brooks said that she believed Michel "over-egged his position, but he was doing his job".
She said that, as journalists "we would have direct contact", but that "the level of access that seemed to come out was pretty good really"
14:08: Back on theBSkyB bid, Brooks said she did have several occasions to put "our side of the story forward" with regard to the News Corp bid.
She said sh often had to fight the "common misconception" that it was News INternational, not News Corp, that was looking to takeover BSkyB.
14:03: The inquiry has resumed.
13:03: The inquiry has broken for lunch.
13:01: Brooks has agreed with Leveson's suggestion that the Sun was "bringing issues to your readers, rather than responding to your readers' interests".
12:45: The discussion has now moved on to the serialisation of the book written by Kate and Gerry McCann, which Brooks said the paper paid around £500,000 for.
Jay asks whether the Sun made threats to the government with regard to the newspaper's campaign for a review of the McCann's case.
"I did not say to the prime minister that I would put Theresa May on the front of the paper every day unless you give a review," she said.
She denies that she spoke to number 10 or the home office about the McCanns until the campaign had been won.
She said the McCanns found it deeply unfair that they did not have a review and the newspaper decided to launch a campaign to convince the government "that a review would be the right thing to do".
Jay asks if this is a "case study" in an exercise of power by the Sun, with regard to the "means by which you achieved the objective".
Brooks said the cause was a good one and that the home secretary agreed that it was a good idea.
"It didn't take long because the government yielded to your pressure," said Jay.
Brooks replied: "Or perhaps they agreed with our argument."
12:37: Jay asks if Murdoch trusted Brooks implicitly, which she confirms. He asks if politicians felt they should get close to her in order to get close to Murdoch.
"I don't think that at all. I was an editor of a very large national newspaper with a readership containing a exceptional percentage of floating voters.
"Politicians wanted access to the editor of the Sun, but I don't think people felt they had to go through me [to get to Rupert Murdoch]."
She said some "friendships" did occur with politicians, but that these need to be put into context as occurring naturally over the years and that she "never forgot she was a journalist".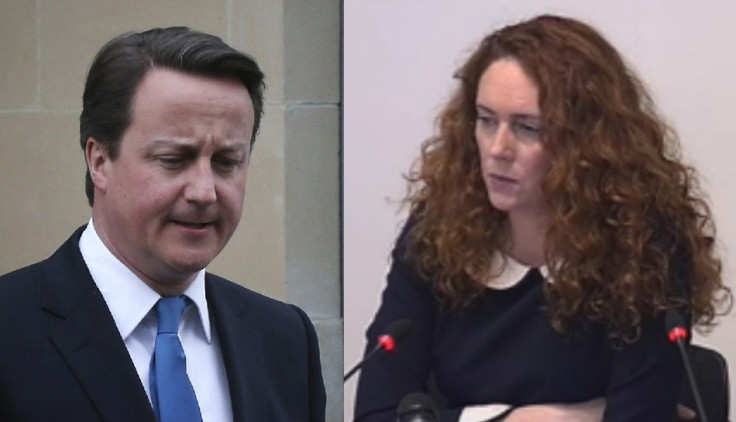 12:33: Tony Blair would often have conversations with Brooks where he shared concerns over the Daily Mail's hostility towards him.
Brooks said it was mainly Cherie Blair who would bring this up, especially with regard to her sexist treatment, which Brooks claims is not the first such complaint about the British press.
12:27: Culture secretary Jeremy Hunt was viewed as being likely to give a "fair" opinion on the BSkyB bid.
Jay: "Not favourable?"
Brooks: "No - fair."
She said that she had no direct conversations with Hunt on the bid, but said that she had seen comments on his website, before he was offered the quasi-judicial role, which suggested he was "quite favourable" to the takeover.
12:20: Now the discussion has moved onto the News Corp/BSkyB takeover bid.
Brooks said she found out about the bid shortly before the public announcement, but that she played "no formal role" in the bid.
"I was aware that it was on the cards."
Leveson suggested she would have an interest in the response to the bid using "all of her experience and contacts".
She replied: "This was a quasi-judicial system and I don't think my input was of relevance." She added that due to the anti-bid lobby, she would strive to put the "counter-voice to a very large opposition".
12:19: Well that was fast... Lots of Love is now trending on Twitter.
12:16: Brooks discussed the phone hacking allegations with Cameron following the 2009 Guardian story. She said she had "on occasion - not very often... if kept coming up, so we would bring it up, maybe in 2010 we had a more specific conversation with it".
12:08: Jay prompts more laughter by pressing Brooks for how Cameron would sign off his text messages.
She revealed he would end them with "DC" and sometimes with "LOL" which would mean "lots of love" until she told him it could mean "laugh out loud".
Leveson said: " Right... done that - move on."
12:05: Brooks has declared rumours that her and Cameron would share up to a dozen text messages a day to be "preposterous".
"One would think that as the leader of the opposition and the prime minister he would have more to do and so would I."
11:58: Claims made by Rupert Murdoch of an argument with Gordon Brown - with a "war" being declared - have been backed up by Brooks, who said Murdoch's relation of the conversation to her was "exactly the same as he told the inquiry".
11:50: Brooks has revealed that she had an "extraordinarily aggressive" conversation with Gordon Brown after a Sun splash had mocked him for a letter written to the family of a soldier killed in Afghanistan.
Brooks, who had been replaced as editor by Dominic Mohan, said the talk was "tense".
"It was a private conversation, but the tone of it was very aggressive and quite rightly."
She said that Brown suspected that the letter article would reflect the "way that The Sun was going to be behaving".
"I assured him that it was a mistake, and the headline was too harsh and this was not the way that the paper was going to behave."
Although she was not the editor, she said she passed her concerns on to Mohan.
11:39: Brooks said she was "instrumental" while not a driving force when it came to the decision to announce the change in allegiance (soon after Gordon Brown's speech at the Labour party conference).
"The discussion at the time was that it would be terribly unfair at the start of a party conference to say that before hearing what Brown and senior cabinet members had to say.
"For all we knew he could come out with a great policy for Sun readers."
Jay asks: "Surely you are not saying that Brown would say anything to change the Sun's position?"
Jay appears to be getting frustrated with Brook's answers, repeatedly asking her to stick to the questions and "not bring up ancient history".
He asks her if she saw the change of allegiance as an "exercise in political power" by News International, but she responds that they felt they were "doing the right thing".
"The Sun newspaper has in its history always done quite dramatic endorsements. It's like the paper and it's strong and punchy. It tells it like it is," she said.
"We just didn't see it in the terms that you're couching it at, although I know some critics did."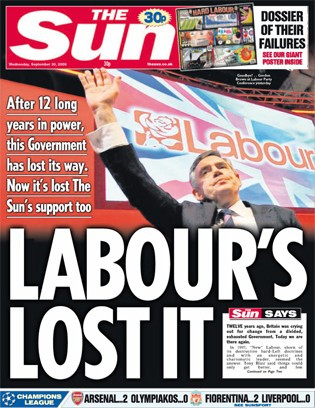 11:32: Brooks said that discussions over the change in allegiance to the Conservatives were brought about by the idea that "we had lost things to support Gordon Brown's government on".
Jay asked whether the factor of who would win the election was involved in the discussions. Brooks said it was a part of it, but that the floating voters were important to the Sun and it was clear that people were "not happy with their lot".
11:27: The focus is on Cameron, with Jay bringing up an occasion when the Tory leader met her and Murdoch on holiday in Greece.
She said: "It wasn't a formal occasion, he was only there for an afternoon or an evening."
She added that she was not present during the majority of conversations between Cameron and Murdoch, but was involved in a conversation on Europe.
11:22: Jay asks when Brooks found out about Andy Coulson becoming director of communications for the Conservatives.
She said he called her soon after a meeting with George Osborne and again when he got the job.
She was not surprised that he got the job as "reporters are good communicators" and said that she was happy for him as a friend.
11:09: Leveson asks about how The Sun would go about garnering the opinions of its millions of readers, or whether the paper would "choose a route that you believe is correct and see whether it is supported by those who are vigorous to correspond with you".
Brooks replies that the paper would use many polls and was sure of its readers position on major campaigns, such as Europe and the Afghanistan war.
She goes on to describe the Sun's close relationship with its readers as well as the legendary Sun post room - now an email room.
"I don't know if it's the same at other papers, but we have a culture that the reader is to be respected. It is almost a sackable offence to be rude to a reader.
"We have had people call the office for directions when they are lost."
11:01: Brooks refuses to reveal sources regarding a story on Gordon Brown had suffered a crushing blow to his leadership, which leads Jay to say he will not reveal his.
She answers: "We can play this game all day."
When Jay said it was suggested Brooks passed information gained from Brown to Blair, Brooks said it was "completely not true" and suggested that his source was John Prescott.
10:56: Jay asks whether the Sun's support at the 1997, 2001 and 2005 elections were pre-discussed with Blair and his advisers.
Brooks said she was not editor in 1997, there was no discussion in 2001 and in 2005 the paper "left it to the day", with a "Vatican style" chimney on the roof at Wapping which would release red or blue smoke.
She apologised that the idea was "funny at the time" and said that she saw the press waiting to see the Sun's position, adding: "I didn't see Tony Blair down there with them."
10:52: Brooks reveals that she had three dinners with Tony Blair "on my own" between 2003 and 2007.
10:43: The conversation has turned to Tony Blair and New Labour.
Brooks admitted that her meetings with politicians increased when she became editor. She argued New Labour was just as concerned with spin under Gordon Brown as Blair.
She said that no newspaper would blindly print a line provided by a politician. Jay responds: "But you were on the side of Tony Blair weren't you?"
Brooks replies: "When you back a political party, like the Sun did in 1997... you don't back them wholeheartedly."
She argues that the Brown-Blair disagreements were "not a playground spat" and the dispute was "analysed by the media in a robust and proper way".
10:39: Brooks claims she was not embarrassed at first when Rupert Murdoch said "this one" and pointed to her when asked by reporters over his priorities.
She said: "I took that to mean this issue. It was not until the next morning until I realised the emphasis that they might put on it."
10:32: Laughter at the inquiry as Jay discusses press rumours over how close Brooks and Murdoch were, including the two swimming together and Murdoch sending a dress to a police station when she was arrested over an alleged assault of ex-husband Ross Kemp.
Brooks about Jay's sources, which he replies are "various". She replies: "You need better sources."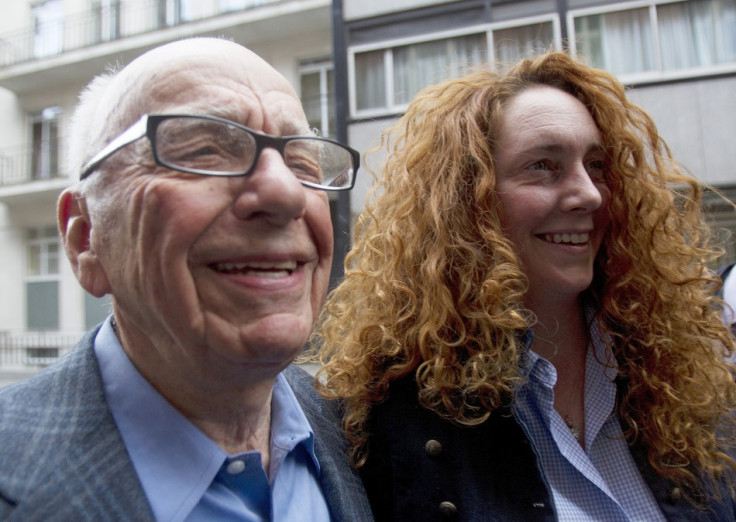 10:28: Jay moves on to the topic of the power of a newspaper to lead its audience. Brooks disagrees that editors and proprietors are "unelected officials".
Brooks: "What I am saying is that, particularly with The Sun, your power is your readership and it's not an individual power. it's a readership power and I think that's really important.
"The readers are the most powerful and it's a voice...your readership can unelect you as a newspaper."
Leveson argues that a newspaper can lead its readers. She replies: "You can present issues to the readership and that's part of being an editor.
10:21: Brooks said she would regularly disagree with Rupert Murdoch when it came to aspects of the Sun's content. She preferred celebrity news, while he preferred hard news "although he did like X Factor".
10:14: Brooks has admitted that leaked text messages from David Cameron, telling her to "keep her head up" on her resignation and apologising for a lack of loyalty had been sent.
She stressed that those were not the exact words used and that these were indirect messages.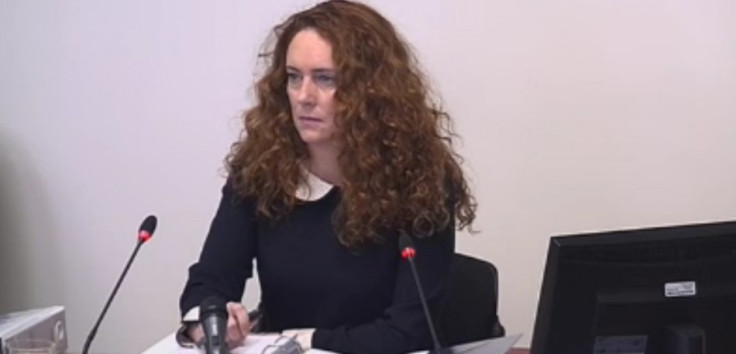 When asked how the messages became public she blamed "a strong free press" and "journalists doing their jobs".
10:13: Robert Jay QC immediately opens on Brooks' text messages, asking if she received messages of commiseration from politicians.
Brooks admitted messages from several Tories and some Labour.
When pressed for details she said: "Sorry I am not trying to be evasive. I received messages from Number 10, Number 11, the Home Office and the Foreign Office."
She said that she received a message from Tony Blair, but not from Gordon Brown, who she said was "probably getting the bunting out".
10:08: Leveson thanks Brooks for her efforts in putting together her witness statement considering the fact that it is a "difficult time" for her.
Brooks is currently on police bail following her arrest in July 2011 on suspicion of conspiring to intercept voicemail messages and of corruption.
10:06: Brooks has arrived and we are underway.
09:37: Brooks is expected at the inquiry at 10am, where she will give evidence for a whole day.
It is presumed that she will be asked for a response, or at least her thoughts, in regard to the report from the culture, media and sport select committee, which saw News Corporation and News International roundly criticised for their action over the News of the World phone hacking scandal.
Brooks did not escape personal mention in the report, which claimed the editor should "accept responsibility" for the actions of those who hacked the phone of murdered teenager Milly Dowler.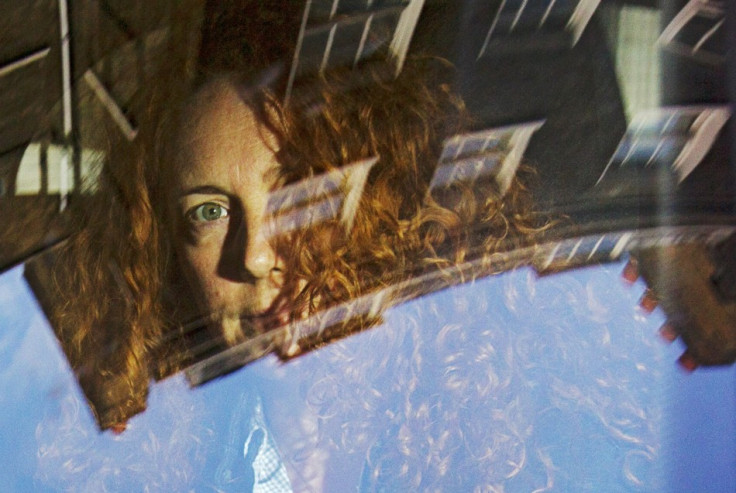 Rebekah Brooks, the former editor of the Sun and News of the World, will reveal the extent of her friendship with Prime Minister David Cameron when she gives evidence to the Leveson Inquiry.
The inquiry into press ethics is expected to lift the lid on the relationship between the former News International chief executive and Cameron. She is understood to have sent up to 12 text messages to him a day.
As the inquiry enters its third phase, focusing on the dealings between the press and politicians, the case of Brooks, who is part of the influential Chipping Norton with Cameron and his wife Samantha, is expected to prove particularly interesting.
Cameron, who attended Brooks's wedding in 2009, along with Gordon Brown, was recently forced to confess that he borrowed a horse from Brooks that had been lent to her by the police.
He is also understood to have sent her a message telling her to "keep her head up" following her resignation in July 2011 as the News of the World phone hacking scandal spun out of control.
Follow IBTimes UK as we report the events at the inquiry live from 10am.