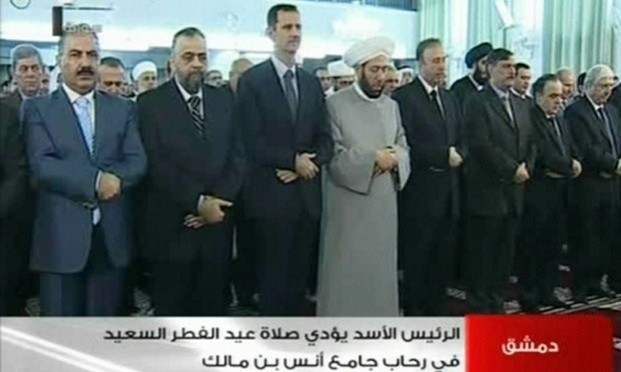 A rebel brigade claims that it targeted Syria's President Bashar al-Assad with mortars on his way to a Damascus mosque, at the start of the Eid al-Fitr Muslim holiday .
The Tahrir al-Sham rebel brigade, a unit of the Free Syrian Army, said earlier: "After conducting reconnaissance [on] the timing and course of Bashar al-Assad's motorcade the area was hit with artillery. We pray to God and await the field report about the results."
Another rebel brigade called Islam Alloush of the LIwa al-Islam told Reuters that rebels fired rockets which hit Assad's motorcade on his way to the mosque.
"Assad was not hit but the information we have, based from sources within the regime, is that there were casualties within his entourage," said a spokesman.
Syrian information minister Omran Zoabi denounced as "wholly untrue". He lashed out at Saudi-owned al-Arabiya for reporting claims by the Western-backed Free Syrian Army and said the news was "completely baseless and a mere reflection of the wishes and illusions of some media outlets and the governments standing behind them".
In a state TV broadcast, Assad appeared dressed in a suit praying along Syria's grand mufti at the start of Eid, the three-day holiday that ends the holy month of Ramadan.
In his third public appearance in a week, Assad reportedly attended prayers in the Anas bin Malik Mosque in an area targeted by mortars. The Britain-based Observatory for Human Rights said three mortar shells hit Malki district.
The neighbourhood, which is where Assad lives, has rarely been targeted by opposition forces during the two-year civil war.