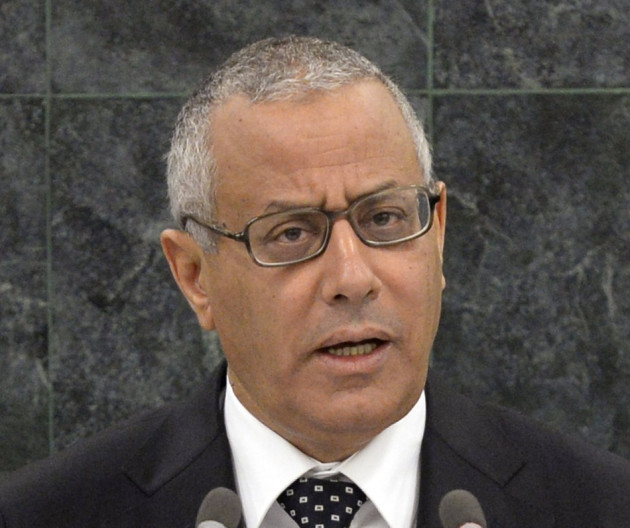 Libyan Prime Minister Ali Zeidan has been kidnapped at gunpoint from a Tripoli hotel, according to reports.
Sky News Arabia, citing sources in Libya, reports that Zeidan "was taken from the hotel where he had been staying in the capital to an unknown location".
CNN later reported that the kidnapped prime minister's spokeswoman had confirmed the news of the abduction, though Zeidan's office had initially dismissed it as mere rumour.
A clerk at the Corinthian Hotel in Tripoli, where Zeidan was staying, said the prime minister was escorted by armed rebels into a convoy of waiting cars.
Libya has been in turmoil ever since the removal of Muammar Gaddafi from power two years ago and the fragile central government has been struggling to rule a country fragmented by conflicting tribal loyalties.
"Prime Minister Ali Zeidan's Libya sounds like a country on the verge of splitting into a jigsaw of rebellious enclaves each with their own government, militias and, importantly, their own share of OPEC member Libya's oil," a Reuters report earlier this week said.
Some believe Zeidan's efforts to rebuild the nation in the face of increasing tribal division and surging conflicts have been borne of federalist ambition, but he has reiterated that Libya is not a failed state.
"We are trying to create a state, and we are not ashamed of that ... The outside world believes that Libya is failing, but Libya was destroyed by Gadhafi for 42 years, and was destroyed by a full year of civil war. And that's why we are trying to rebuild it," he told CNN's Christiane Amanpour last month.
The abduction of Zeidan, who holds executive powers in the country, shows the severity of the chaos in Libya, a major member of the oil-producing OPEC bloc.