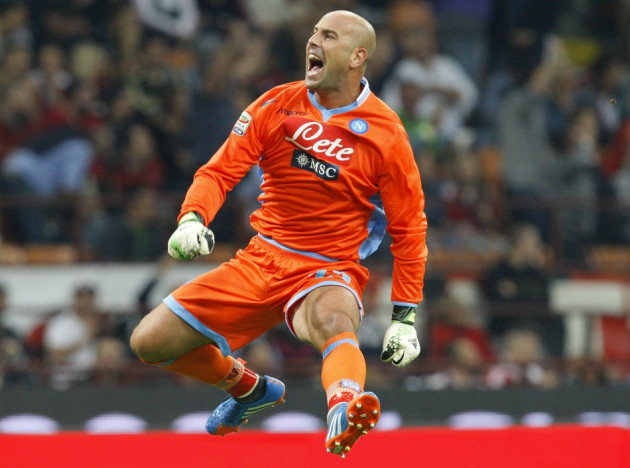 Pepe Reina's future at Liverpool is growing increasingly untenable after the 31 year old's father revealed the goalkeeper had agreed a permanent move to Barcelona in the summer before Victor Valdes opted to remain at the Nou Camp.
The Spaniard has joined Napoli on a season-long loan and has stated his career at Anfield is all but over after being forced out of the club following the summer signing of Simon Mignolet.
Valdes is expected to leave the Catalans at the end of the current season, with Ligue 1 side Monaco among the clubs in contention for his signature, while Reina is being mentioned as a likely replacement.
Napoli president Aurelio de Laurentiis has already confirmed that Reina will not remain at the Serie A side beyond the end of the current campaign, opening the door for the Spanish stopper to re-join Barca, for whom he made 30 appearances for from 2000-2002.
Reina revealed earlier this year that he explored the possibility of joining Barcelona prior to being loaned out by Liverpool to Napoli, and his father Miguel says The Reds man had an agreement to replace Valdes in the summer.
"A few months ago Pepe was in talks with Barcelona," he told Marca. "They had an agreement and he was all set to go but then Victor Valdes didn't leave and the deal fell through."
Having made no secret over his desire to leave Liverpool at the end of the season regardless of the destination, the latest revelation makes it a matter of time before Reina leaves the Premier League side on a permanent basis.
The opportunity to play for Barcelona is likely to be too good an chance to turn down for Reina, who returned to English shores with Napoli for the Champions League tie against Arsenal in September.
And upon his return he revealed his future at Liverpool is as good as over after being forced out of the club by manager Brendan Rodgers.
"At the moment it's difficult to think about being a Liverpool player next year," Reina said. "They have a young goalkeeper in Simon Mignolet and the manager prefers him to me.
"That's the reason why I'm here and he will be at the club next year as well. There's no reason to think I'll be a Liverpool player from now on but we'll see where the future takes us.
"It's been a good move so far and I don't regret what happened. I would have preferred to say goodbye in a different way.
"It was the club [Liverpool] who made the move. I was on my holidays and nobody told me anything. Suddenly Napoli called and said they were agreeing terms with Liverpool and Liverpool just rang me two days later and said the same. They probably had their own reasons."